Home Theater Headphones with Wireless Dock for iPod
MODEL NUMBER: XVTHP200

Model Features:

Active Noise Cancelling
Wireless Dock for iPod*
40mm neodymium drivers, Dolby Digital, and SRS audio processing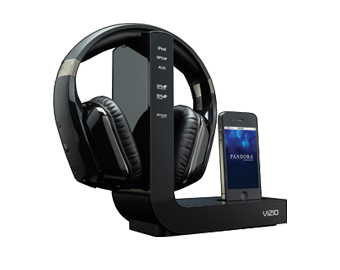 Product Overview
Immerse yourself in High Definition, uncompressed, crystal-clear surround sound with VIZIO's Active Noise Cancelling High Definition Home Theater Headphones with Wireless Dock for iPod!*
Listen to your favorite music and movies from nearly anywhere in your home without sacrificing quality or disturbing neighbors and sleeping family members. Enjoy the freedom of listening to music on your iPod or audio from your TV/Blu-ray™ player anywhere in your home without wires. Share your tunes with friends using your existing home theater speakers.
Active Noise Cancelling (ANC) technology helps reduce unwanted background noise so you can tune out and lose yourself in true lossless audio. Integrated Dolby Digital and SRS processing deliver a mind-blowing audio experience with powerful 40mm neodymium drivers for exceptional audio reproduction.
These headphones are perfect for travel with a comfortable, adjustable headband and added controls on the headphones themselves.The sleek fold and go design fits compactly into included carrying case so you can take powerful audio with you using the included 3.5mm cable.


Active Noise Cancelling™



Active Noise Cancelling (ANC) reduces unwanted background noise so you can enjoy your music and media. Your Home Theater Headphones incorporate technology that detects loud, continuous noises. The headphones then generate a signal that interferes with the unwanted noise so you can hear music or media without the distraction.

Wireless HD Audio™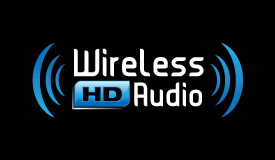 VIZIO's High Definition Wireless Audio allows you to experience your Home Audio from anywhere in your home.
SRS Sound™



SRS Sound delivers immersive surround sound, deep base, clear dialog and level volume.
Dolby* Digital



The audio standard for cinema, broadcast, DVD and Blu ray, Dolby Digital surround sound provides dramatic spatial dimension to soundtracks and enhanced audio definition for an engaging listening experience that matches the visual impact of film.
*Made for:
• iPhone 4
• iPhone 3GS
• iPod with video (5th generation) (60GB, 80GB only)
• iPod nano (6th generation) (8GB, 16GB only)
For information on hearing damage, please click here
Tech Specs
SPECIFICATIONS
Product Dimensions (WxHxD):
7.4" x 7.3" x 2.9"

Packaging Dimensions (WxHxD):
11.3" x 10.6" x 4.9"

Headphone Net Weight:
.77 lbs.

Base Station Net Weight:
.97 lbs.

Speakers:
40mm drivers
Frequency Response:
F0 - 15KHz
Active Noise Cancelling:
Yes
Inputs/Connections:
3.5mm headphone jack, Power via micro USB

Dock Compatibility:
iPhone, iPod Touch and iPod Nano

Frequency Response:
F0 - 15KHz
Power:
100 ~ 240V
Wireless HD Audio:
Yes
Certifications:
SRS WOW HD, SRS Circle Surround HP, SRS TruVolume, Dolby Digital, "Made for iPod" certification and "Works with iPhone" certification
Compliances:
UL (base station only), FCC, IC, Ro HS