3 in 1 Universal Remote Control
MODEL NUMBER: XRU100

Model Features:
• Control up to 3 home theater devices
• Compatible with latest technology – including LED LCD HDTVs
• Code search mode finds your device for easy setup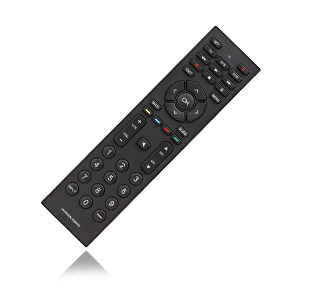 Product Overview
Control your entertainment domain with one remote. The VIZIO Home Theater Universal Remote manages up to three entertainment devices including satellite and cable TV to Blu-ray™ Players and HDTVs, and everything in between. It's programmed to be compatible with over 500 brands and 2500 devices, and uses a clever code search mode to find your device without any manual setup.
Tech Specs
SPECIFICATIONS
Number of Devices Supported:
3

Code Interoperability:
Over 500 brands; 2,500 devices

Device Compatibility:
Satellite box, Cable box, HDTVs, Blu-ray Player, DVD Player, VCR Player and Home Theater

Color Transport Keys:
Yes - Yellow/Blue/Red/Green

Battery:
1 coin cell battery (included)
LED Indicator:
Yes
Backlit:
No