VUR6 REMOTE CONTROL
MODEL NUMBER: VUR6

Model Features:
Control up to 4 specific home theater components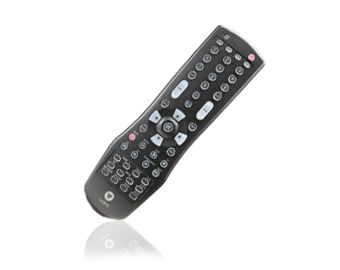 Product Overview
The VIZIO Universal Programmable Remote Control VUR6, is designed to work with all* VIZIO flat panel televisions, as well as most of your existing components such as DVD players, cable boxes, personal video recorders, etc. The VIZIO VUR6 is furnished with a flat black finish with backlit buttons.
*can be programmed for limited operation of the VIZIO L6, L13, L13e, L20, L30WGU, P4, P46, RP56 and P42 - version with speakers on the sides If using this remote with other VIZIO flat panel television models that do not have PIP, Freeze and Zoom features, these functions will be non-operational.
General Specifications:
• Control up to 4 specific home theater components
• Preprogrammed technology for easy setup
• Backlight
• 2x AA Batteries
Tech Specs