MOTORIZED UNIVERSAL WALL MOUNT 40-55
MODEL NUMBER: VMT40-55M

Model Features:
Tilts up to 13 Degrees
Supports 105 lbs.
Remote Operated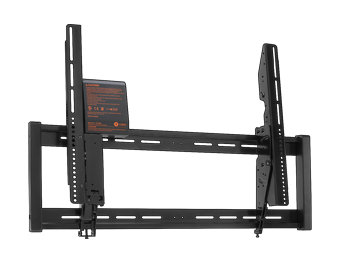 Product Overview
A Universal Design For All Flat Panel HDTVs
The VMT40-55M Universal Wall Mount enhances any home theater system experience with greater motorized mounting capabilities! Allowing for the most optimum viewing angle, this mount automatically tilts when your TV receives a signal*. This easy to install universal wall mount will compliment your new HDTV as the mount returns upright and flush when your TV is turned off. Not only is this mount space saving and convenient in design, it also can support up to 105lbs. To assist in achieving the ideal viewing angle, included is a remote control.
Tech Specs
General Specifications:
• TV Size: 40" to 55"
• Support TV Weight: up to 105 lbs
• Mount Dimensions: 33.07" x 23.620" x 3.30 (W x H x D)
• Retracted: TV is 3.3" or 84mm from wall when mounted
• Ship Weight: 18.8 lbs
• Variable Tilt: 0-13 Degrees
• Warranty: Manufacturer's Lifetime Guarantee, $10,000 component insurance included