Blu-ray™ Disc Player with Wireless Internet Apps
MODEL NUMBER: VBR220

Model Features:

Full HD 1080p Video Playback
Integrated Wi-Fi – 802.11n
7.1 Digital Audio Output*
Backwards Compatible – Plays Blu-ray™, DVD, Audio CDs, MP3s and Jpegs from Front USB Port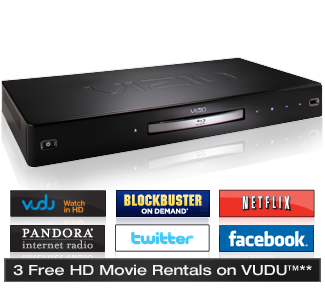 Product Overview
The VIZIO VBR220 Blu-ray™ Player with Wireless Internet Apps delivers full 1080p high-definition video, 7.1 surround sound and connects wirelessly to the Internet to stream movies, TV shows, music and more! This amazing device plays Blu-ray™ and DVD discs, audio CDs, MP3 and JPEG files from the front USB input. The VBR220 includes built-in 802.11n wireless networking for easy connection to the Internet so you can enjoy even more entertainment from top online services like Cinema Now, Netflix***, VUDU**, Pandora Internet Radio, Twitter™, Facebook, Flickr, Picasa, Associated Press and The New York Times and so many others!
But wait, there's even more! VUDU™ is offering 3 free high definition movie rentals! That's a $17.97 retail value!**
VIZIO Internet Apps® (V.I.A.)


Easily connect to the Internet and stream movies and TV shows, listen to music and get the latest news, sports and weather.

1080P FULL HD


Full 1080P High Definition resolution makes the clarity and detail of your picture razor sharp.

Wi-Fi Technology


The latest 802.11n Wireless Networking is built-in making connecting to the Internet quick and easy.

VUDU™


Enjoy the latest Hollywood blockbusters on-demand in 1080p HD with 5.1 surround sound without ever having to leave your couch. With the largest catalog of 1080p HD available on-demand and services like Rotten Tomatoes and Wikipedia built right into the screen, you'll always find something to watch.

Blockbuster


Blockbuster On Demand gives you instant access to a wide selection of movies with no monthly fees, including new releases offered the same day as DVD and Blu-ray! Activate your Blockbuster On Demand app for free, and receive discounts valued up to $25.

Netflix®


For $8.99 a month, Netflix members can instantly watch unlimited TV episodes and movies streamed to their TVs and can receive unlimited DVDs delivered quickly to their homes. With Netflix, there are never any due dates or late fees.

Pandora® Internet Radio


It's a new kind of radio - free and personalized just for you, playing only the music that you love. Enter the name of your favorite song, artist, or composer and enjoy radio stations created just for you. Rate songs as they play, because Pandora caters to your tastes and adapts stations to your feedback on the spot. Use the Pandora widget and be prepared to fall in love with music all over again.

Twitter™


With Twitter you can share and discover what's happening right now, anywhere in the world ... and your program is never interrupted.

Facebook®


Connect and share with the people in your life. Update your status, view your news feed, friends information, and much more.

Flickr™


Share photos with family and friends, browse the latest photos posted by the worldwide Flickr community, or watch a slideshow; all on your TV screen.

The New York Times


Updated throughout the day, the NY Times app provides the most up the date video news straight from the "Newspaper of Record" on topics ranging from world news to a behind the scenes look at the creation of the NYTimes' front page every day.

Associated Press


From world news to the latest in finance and tech, the AP app provides a quick summary of the top stories on the AP newswire 24/7.

Picasa


Browse your Picasa web albums from your TV. Don't have your own? Enjoy beautiful photos taken by amateur and professional photographers from all over the world selected by Google's Picasa team.
*Via HDMI
**Requires VUDU™ account activation. More details available inside carton insert
***Requires high-speed internet connection. Fees may apply
Requires Netflix Unlimited Subscription
Tech Specs
General Specifications:
•Unit Dimensions: 16.929" W x 8.898" H x 1.969" D
• Packaging Dimensions: 19.882" W x 5.315" H x 12.008" D
• Net Weight: 5.732 lbs.
•Gross Weight: 9.039 lbs.
• Power (AVG): <25W, <1W Standby
•Remote: VIZIO Blu-ray™ Proprietary Remote
Compatibility:
•Plays Blu-ray™ and DVDs, Audio CDs, MP3s and Jpegs
•Multi-Channel 7.1 Audio Output via HDMI
•Playback and Enjoy Media via back USB Input (JPEGs and MP3s)*
Outputs:
•HDMI 1.3
•Component Video (YCrCB)
• Composite Video
• Stereo Audio
•Coaxial Audio
• Optical Digital Audio