VIZIO Internet Apps TV Video Camera
MODEL NUMBER: XCV100

Model Features:

FREE Skype to Skype video calls on V.I.A TVs
Video, Voice and instant message
Four built-in microphones for superior audio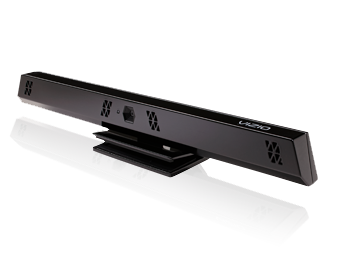 Product Overview
Make FREE Skype to Skype video and voice calls from the comfort of your couch with the VIZIO Internet Apps (V.I.A.) TV Video Camera for V.I.A. HDTVs*. Mount the slim camera on top of your V.I.A. HDTV, launch the Skype app on your TV, then start calling family and friends around the world with Skype right from your big screen, with up to 720p HD video quality**. With 4 built-in microphones for superior audio quality, you can sit back on the couch and enjoy video calls like never before.

*Requires high-speed Internet connection. Compatible with most VIZIO Internet Apps enabled HDTVs. See store.vizio.com/tvchat for TV compatibility and requirements.

**Video up to 1280 x 720 pixels is achievable when system requirements are met by all participants.
*** Does not work with Cinemawide XVT3D580CM TV
Disclaimer

Compatible with most of VIZIO HDTV's featuring VIZIO Internet Apps®. For the latest list of VIZIO HDTV's that are compatible with this VIZIO internet apps TV video camera, please see store.vizio.vom/tvchat.
Video up to 1280 x 720 pixels is achievable when the following system requirements are met by all participants: (1) HD Capable, compatible VIZIO internet apps HDTV, a PC or other device running Skype along with an HD webcam or HD camera; and (2) A high speed internet connection with minimum, sustained upload and download speeds of 1.5 MBPS. Video quality may be affected by the equipment and many factors including environmental. Where HD capable system requirements are not met by all participants but still sufficient for video transmission, video quality will resolve in standard definition. Not all VIZIO internet apps HDTV's support HD quality video using Skype.

*Skype is a trade mark of Skype Limited or its related companies. Copyright 2003-2011, Skype Limited, Patents Pending. For Skype to Skype calls, all participants must have a Skype account and be logged into Skype. High-speed internet connectivity required and sold separately. Network conditions, environmental and other factors may negatively affect connectivity and the resulting video quality if any.
Tech Specs
Specifications (VIDEO)

Resolution:
HD – Up to 1280 x 720*
* Achievable when HD system requirements, including Internet connection speed, are met by all participants.

Frames Per Second:
Up to 30 FPS
Recording option:

No

Additional Tech Specs

Video Chat Apps Supported:
Skype. Visit www.vizio.com/tvchat for more details.
Skype Certified:
Yes

LED Indicator:
Yes, white LED

Mountable:
Yes
Microphones:
4
USB Cable:
5.9FT, USB 2.0

TV Compatibility:
Compatible with most V.I.A HDTV's. See www.vizio.com/TVchat for TV compatibility.

Camera Tilt:
10 degree adjustable downward tilt
Field of View:
Vertical 37 degrees, Horizontal 57 degrees
Product Photos