Sound Bar with Wireless Subwoofer
MODEL NUMBER: VSB210WS

Model Features:
• Universal 40" home theater sound bar with wireless subwoofer adds home theater audio to any HDTV
• Wireless subwoofer can be placed anywhere within 60FT of the sound bar
• SRSTruSurround HD - Experience rich bass and clear dialog
• SRSTruVolume - Monitors and balances sound levels so you no longer have to experience volume ups and downs
• Easy setup with one cable from TV to sound bar, and auto-syncs with wireless subwoofer
• Four 3" High-Efficiency hand built mid/bass transducers
• Subwoofer Frequency Response: 35Hz up to 80Hz, 6.5" long throw (high excursion)
• Built-in stand swivels for tabletop or wall mount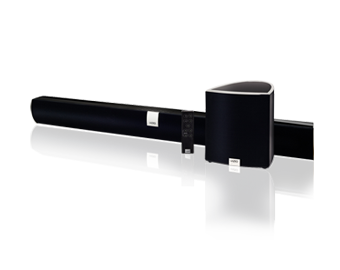 Product Overview
Turn any HDTV into a home theater without excess clutter! VIZIO's Home Theater 40" Sound Bar with Wireless Subwoofer delivers home theater audio in a sleek sound bar design perfect for 42" HDTVs and larger. Sound bar includes integrated front and center channels and packs advanced surround sound technology, including SRS TruSurround HD™ and SRS TruVolume™. The wireless subwoofer uses Wireless 2.4 GHz technology, which lets you place the wireless subwoofer anywhere in the room.
Tech Specs
Specifications
Sound bar Size:
40"
Sound bar Speakers:
2 channels – left and right. Each channel consisting of (1) 3" full-range driver per channel
Subwoofer Driver:
6.5"
Sound Bar Frequency:
80Hz – 20KHz
Subwoofer Frequency:
35Hz - 80KHz
Subwoofer Sound Pressure Level:
100dB
Sound Enhancement Technology:
SRS TruSurround HD, SRS TruVolume, SRS WOW HD™
Wireless Range:
10m or 30ft – clear line of sight
Remote Control Type:
VR8 (VSB210WS), XRS011 (VSB210WS-E2)
Installation:
Table-standing or wall-mounting options with included adjustable feet/wall mount brackets and wired subwoofer with 18' subwoofer cable (removable)
Package Contents:
Sound Bar with wireless Subwoofer, Power Adapter, RCA Audio Cable, QSG, Remote Control with Battery
Energy Star Qualified:
2.0
Compliances:
UL, FCC
Wall-Mountable:
Yes
Connections (Rear)
Analog Audio Input:
1 x Stereo RCA
Analog Audio Input:
1 x 3.5mm Stereo
Analog Audio Input:
1 x Optical
Power Input
AC power adapter
Weight
Gross:
39lbs
Soundbar With Stand:
9lbs
Soundbar Without Stand:
8.45lbs
Subwoofer:
8lbs
Dimensions
With Stand:
39.75"W x 4.82"H x 4.33"D
Without Stand:
39.75"W x 3.75"H x 4.33"D
Subwoofer:
11.8"W x 13"H x 11.84"D
Packaging Dimensions:
42.9"W x 14.9"H x 19.5"D
VIZIO VSB210WS Sound Bar with Wireless Subwoofer Reviewed
November 16, 2009 Sound bars have always been a bit of the redheaded stepchild of the home theater world for me, a replica of sorts for those unable to accommodate or afford a proper home theater. Of course I jumped to this conclusion before I had actually heard or even experienced a sound bar system and now that I have, I'm prepared to modify my views..." Read More
VIZIO VF550XVT1A 55-inch LCD HDTV Reviewed with Sound Bar with Wireless Subwoofer
November 4, 2009"I'm a big fan of "America's number 1" LCD HDTV provider, VIZIO, and its wide range of home entertainment products. I've reviewed two previous LCD HDTV models (a 42-inch and a 47-inch), but I wanted to review something bigger and better..." Read More
VIZIO VSB210WS Review
October 30th, 2009 The basic sound bar configuration consists of multiple speakers with an amplifier in one compact enclosure. VIZIO's VSB210WS one ups this kit by adding a separate powered subwoofer to the package. And as a bonus, the subwoofer links to the sound bar wirelessly, which means that it can be placed anywhere in the room - up to 60 feet with clear line of sight.READ MORE »
SRS-Branded Volume-Leveling Device Due
September 18, 2009 SRS Labs plans to market an SRS-branded TV-audio processor said to eliminate abrupt and annoying changes in perceived volume levels when TV channels are changed or loud TV commercials interrupt a broadcast.READ MORE »
SRS TruVolume - the enemy of loud ads on TV
September 18, 2009 SRS have released an audio innovation which will eliminate a bugbear many have when watching TV - the unevenness of the volume, in particular, ads being noticeably louder than everything else broadcast. Broadcasters swear that ads are not any louder, but to many ears this simply is not true.READ MORE »
SRS TruVolume tells blaring commercials to simmer down
September 17, 2009 How do you get it? The bad news: The algorithm needs to be built into your TV. The good news: It's being integrated in several sets right now, mainly Samsung and Vizio models.READ MORE »
Home Theater Mag welcomes VIZIO's VSB210WS soundbar to the audio fray
June 17, 2009 From reading Home Theater Mag's review of VIZIO's VSB210WS setup, it sounds like the brand will deliver the goods to value-conscious (an who isn't these days?) audio shoppers who don't want or need a full-blown multi-speaker surround system.READ MORE »
Vizio VSB210WS soundbar with wireless subwoofer
June 17, 2009 For all the big audio/video companies that have lost TV market share to Vizio, here is something else to worry about. Like I said, times are tough — for everyone.READ MORE »

Product Photos