Sound Isolating Earphones with Built-in Microphone, Black
MODEL NUMBER: VHE211K

Model Features:

High performance, sound isolating earphones
Built-in microphone & in-line controls
Custom-fit adjustable in-ear cushions
Tangle-free flat cable
Available in black or white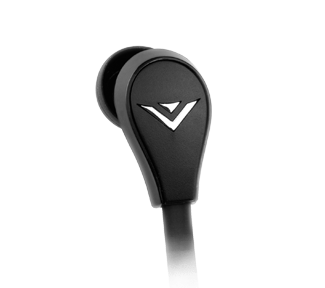 Product Overview
Upgrade Your Listening Experience
Hear every note as it was meant to be heard with VIZIO's Sound Isolating High Performance Earphones. Equipped with 9mm neodymium dynamic drivers, they are professionally tuned to deliver powerful, amazingly accurate audio you can't get with conventional earphones. Built-in controls mean you can play, pause and change tracks without taking your phone from your pocket, while the built-in microphone lets you to pick up a call and talk hands free when needed.
The Sound Isolating High Performance Earbuds are also available in white. To visit this product click here.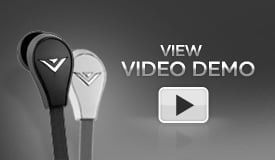 For information on hearing damage, please click here.
Tech Specs
SPECIFICATIONS
Speakers:
2 x 9mm dynamic driver speakers

Cable Length:
51" (inches)

Frequency Response Time:
20Hz - 20KHz

Impedance:
2 x 16 ohms

Sound Pressure Level (SPL):
102+3 dB SPL @ 1KHz 1mW

Connections:
3.5mm audio in

Power Input:
1mW
Voltage:
178mV
Ear Cushions:
3 pairs - S, M, L
Compliance:
CE
Certifications:
N/A
4 Review(s)
Customer Reviews
These are the most amazing earphones by far. I had my pair for 2 years, and I just lost them. I can not use another product that I search everywhere for a new pair. Thank God I did.

(Posted on 11/8/12)

i bought these i would say about a year ago. was in the market to buy in ear headphones and didnt want to spend alot of money on some like the beats by monster which start at 100 bucks. was online viewing various earphones within the 20 to 30 dollar range. didn't see any that looks appealing until i came across these bad boys. i took a gamble at these and let me tell u , i was amazed at the sound quality they posses. Im so glad i got these they are well worth the 20 bucks i paid for them(they were on special when i got them) and think they look way better than other earphones out there on the market for that same price. the thing i like the most is the flat cable cant love it enough because it makes them tangle free(might be a tad bulkier than your standard earphone cables but well worth the bulk) . i rather have the bulk than the hassle of them getting tangledd all the time, they are so hassle free i can put them on my pockets and later on take them out and not struggle and fight with the cable trying to figure how to untangle them for 5 minutes. another plus is they feel pretty sturdy compared to other earphone in this price range. overall these are the best earphone ive ever bought for this price that is why im going for my second ones in case i ever loose them i want these again... thank vizio for such an awesome product

(Posted on 7/22/12)

I like these

(Posted on 12/28/11)

I didn't know what to expect when I first bought these headphones, but when I first put them in and turned my iPod on, I was completely surprised by how great the quality is, and how clear my songs sounded.

(Posted on 7/24/11)
Product Photos