Universal Wireless HD Video & Audio Kit
MODEL NUMBER: XWH200

Model Features:

Wirelessly transmits 3D and 1080p HD video and audio up to 30' away
4 HDMI ports
Ideal for wall-mounted HDTVs
Eliminates Cable clutter
Free Shipping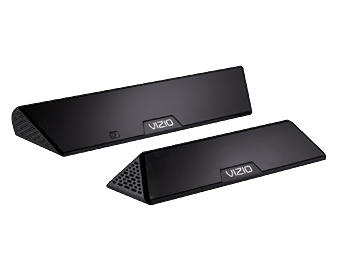 Product Overview
Now you can really enjoy the view. The VIZIO Universal Wireless HD Video and Audio Kit eliminates cable clutter with this in-room wireless HD solution. You can mount your HDTV in one area of the room and house your 3D and 1080p HD Blu-ray™ Player, gaming console, audio equipment and more up to 30 feet away.
It transmits on a 60 GHz interference-free frequency so other Wi-Fi devices won't disrupt the quality of the signal. And installation couldn't be easier. No additional software or equipment is necessary, simply plug your HDTV into the receiver via an HDMI cable and up to 4 devices into the 4 HDMI ports in the transmitter. The system will transmit all 3D and high-definition audio and video content directly to your TV.
It's also HDCP approved so watching licensed content from cable, satellite or Blu-ray™ won't be a problem either. The kit includes two 3ft HDMI® Cables to connect your TV to the receiver and an AV device to the transmitter. It's an ideal solution for wall-mounted HDTVs. Cables are cleanly and safely out of sight and 3D and HD content still plays at peak performance.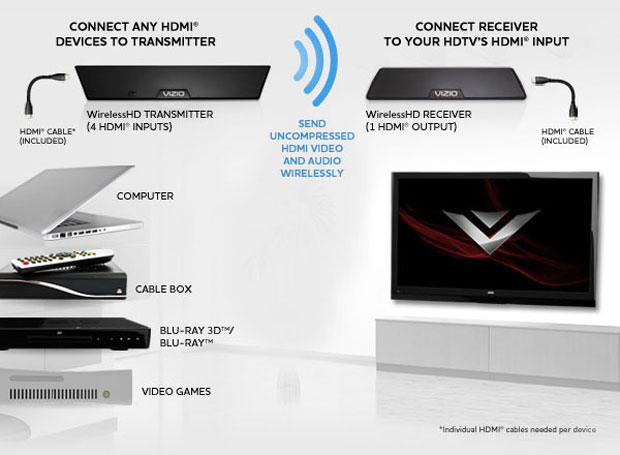 Tech Specs
SPECIFICATIONS
Wireless Frequency:
60 GHz
Maximum Throughput:
4Gbps
Wireless Link Latency:
2ms typical

Operational Range:
Up to 30ft In-room - Non line of sight

In-cabinet Capability:
Yes (depending on cabinet material)

Industry Standard:
WirelessHD™ 1.0

HDMI Support:
HDMI 1.4a (3D) with CEC

HDCP 2.0 Content Protection:
Yes
Transmit Adapter Inputs (Rear):
4 - HDMI with HDCP
Transmit Adapter Output:
1 - WirelessHD 1.0
Transmit Buttons/Controls:
1 touch capacitive button - HDMI input selection toggle
Receiver Adapter Inputs (Rear):
1 - WirelessHD 1.0
Receiver Adapter Output:
1 - HDMI with HDCP
Signal Compatibility:
Signal Compatibility 480i (SDTV), 480p (EDTV), 720p (HDTV 2D & 3D), 1080i (HDTV), 1080p (FHDTV 2D & 3D), Supports 7.1ch surround sound
2D Video Resolution Compatibility:
480i / 480p / 720p / 1080i / 1080p VGA, XGA, SXGA, WSXGA+
3D Video Support
720p 50/59.94/60Hz, 1080p 23.98/24Hz
3D Format Support
Frame Packing, Side by Side, Top/Bottom, SENSIO®, RealD
Audio Mode Support
2-8ch LPCM @ 32KHz-192KHz, Dolby Digital 5.1ch @ 44.1Khz and 48KHz
Certifications
WirelessHD 1.0, HDMI, FCC Part 15, IC, UL (AC/DC Adapters)
Product Photos