Blu-ray Player with VIZIO Internet Apps with Free Shipping
MODEL NUMBER: VBR120

Model Features:

1080p Full HD Video Playback
Access VUDU™, Netflix®, Pandora® & more!
7.1 Digital Audio Output*
2 Free HD Movie Rentals on Vu-Du™**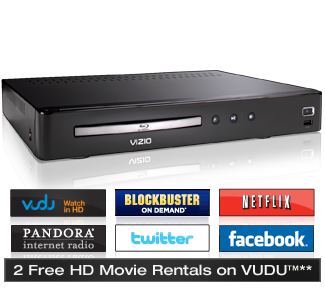 Product Overview
The VIZIO VBR120 Blu-ray™ Player with VIZIO Internet Apps® delivers full 1080p high-definition video for razor sharp images, 7.1 surround sound for amazing audio and connects via Ethernet to the Internet to stream movies, TV shows, music and more.*** This incredible device plays Blu-ray™ and DVD discs, audio CDs, MP3 and JPEG files. The VBR120 includes a built-in Ethernet port for easy access to the Internet so you can enjoy even more entertainment from top online brands like Netflix****, VUDU, Pandora Internet Radio, Twitter, Facebook, Flickr, Picasa, Associated Press, The New York Times and so much more! Also get 2 free HD movie rentals on VUDU, the online service that delivers 1080p HD movies!**
VIZIO Internet Apps® (V.I.A.)


Easily connect to the Internet and stream movies and TV shows, listen to music and get the latest news, sports and weather.

1080P FULL HD


Full 1080P High Definition resolution makes the clarity and detail of your picture razor sharp.

VUDU™


Enjoy the latest Hollywood blockbusters on-demand in 1080p HD with 5.1 surround sound without ever having to leave your couch. With the largest catalog of 1080p HD available on-demand and services like Rotten Tomatoes and Wikipedia built right into the screen, you'll always find something to watch.

Blockbuster


Blockbuster On Demand gives you instant access to a wide selection of movies with no monthly fees, including new releases offered the same day as DVD and Blu-ray! Activate your Blockbuster On Demand app for free, and receive discounts valued up to $25.

Netflix®


For $8.99 a month, Netflix members can instantly watch unlimited TV episodes and movies streamed to their TVs and can receive unlimited DVDs delivered quickly to their homes. With Netflix, there are never any due dates or late fees.

Pandora® Internet Radio


It's a new kind of radio - free and personalized just for you, playing only the music that you love. Enter the name of your favorite song, artist, or composer and enjoy radio stations created just for you. Rate songs as they play, because Pandora caters to your tastes and adapts stations to your feedback on the spot. Use the Pandora widget and be prepared to fall in love with music all over again.

Twitter™


With Twitter you can share and discover what's happening right now, anywhere in the world ... and your program is never interrupted.

Facebook®


Connect and share with the people in your life. Update your status, view your news feed, friends information, and much more.

Flickr™


Share photos with family and friends, browse the latest photos posted by the worldwide Flickr community, or watch a slideshow; all on your TV screen.

The New York Times


Updated throughout the day, the NY Times app provides the most up the date video news straight from the "Newspaper of Record" on topics ranging from world news to a behind the scenes look at the creation of the NYTimes' front page every day.

Associated Press


From world news to the latest in finance and tech, the AP app provides a quick summary of the top stories on the AP newswire 24/7.

Picasa


Browse your Picasa web albums from your TV. Don't have your own? Enjoy beautiful photos taken by amateur and professional photographers from all over the world selected by Google's Picasa team.
*Via HDMI
**Requires VUDU™ account activation. More details available inside carton insert
***Requires high-speed internet connection. Fees may apply
Requires Netflix Unlimited Subscription
Tech Specs
General Specifications:
• Unit Dimensions: 12.59" W x 1.97" H x 9.44" D
• Box Dimensions: 14.56" W x 11.02" H x 4.92" D
• Net Weight:
• Gross Weight: 8.69 lbs.
• Power Input:
• Voltage Range:
• Power-On Consumption (AVG): <25W, <1W Standby
• Remote: VBR120 Proprietary Remote
• Power Cord:
• Signal Cable:
Compatibility:
• Plays Blu-Ray™ Discs (BD-Live** & Bonus View)
• Plays DVDs, Audio CDs, MP3s and JPEGs
• Built-In Audio Decoding for Dolby Digital Plus, Dolby TruHD and DTS
• Multi-Channel 7.1 Audio Output via HDMI
• Playback and Enjoy Media via Input (Jpegs and MP3s)
Outputs:
• HDMI Version 1.3 with HD Audio Bitstream
• Component (YCrCB) Composite Video
• Stream Audio (24 Bit, 192KHz)
• Coaxial and Optical Digital Audio
*7.1 Digital Audio via HDMI only
**Separate Use Memory Drive required; requires internet connection
32 Review(s)
Customer Reviews
We have had a Blu-Ray player for a few month's and it began to not load. I called tech support and they really went the extra mile to insure that the problem was resolved and that we could continue to enjoy our Blu-Ray player. In this day of disposable everything, take the easy way out and just plain in-competence at times it was VERY refreshing to deal with someone who will take the time and go the "extra mile" to help a customer (now a very loyal customer) resolve a problem. KUDO'S VIZEO!!!

(Posted on 10/31/12)

Good device. The Blockbuster App is gone after Blockbuster fizzed, but the other stuff is cool.

(Posted on 2/3/12)

Easy to hook-up and set-up. Don't care about the apps, but the player is just what I expected from Vizio...great!! The digitial audio (toslink)...exceptional.

(Posted on 12/29/11)

I bought this product yesterday and i am very pleased with the picture and sound quality. The only problem is that sometimes while watching a movie the screen flickers and the video slows and flashes weird pictures of things. Other than the BluRay being possessed by demonic spirits, the VBR120 is very very much worth the money. Buy Now!

(Posted on 12/12/11)

System requires update and won' t do it. Needs to be reset or power cycled regularly. But, on the upside has nice picture and sound for the dollar.

(Posted on 12/7/11)

We bought ours for $88 at Walmart. Love it but wishing it played HuluPlus. hopefully soon?

(Posted on 11/29/11)

Just bought Hulu Plus because it listed Vizio as a supported device...hope its just a matter of time. Not going to pay blockbuster's outrageous prices, Netfix works great but limits us to 2 devices running it at one time. Love the fact I can watch on Hulu today what folks paying huge cable or satellite bills watched just last night =) Now if we could just get it up on the 52" with our Vizio..... Anxiously awaiting an update!

(Posted on 11/19/11)

Great investment, great Optical Audio, nice options, havn't tried BlueRay yet.

Found an interesting quirk, My system consists of a 4 x 2 HDMI Matrix Switch and the dvd player is #3 input. When working on menus and the need for th edown arrow occurs and you press he down arrow, the 4 x 2 matrix switch changes inputs on the #2 output,. It is an infrared issue.

Not a big problem now that I know what caused it to switch.



(Posted on 11/17/11)

After Power down unit appears to require some warm-up time to power on(whether by remote or manual buttons on unit face). Remote is cumbersome and lacks touch sensitivity of most remotes. The buttons are hard to push. For the money its hard to beat.
Overall it is quite satisfactory. I could care less about the internet apps. Would still be better if wi-fi capable. Play back through my Visio 26" is great, especially since I use a Pioneer A/V processor that will upscale to HDMI 1080P with a multitude of surround modes + bluetooth interface and wi-fi capability

(Posted on 11/4/11)

So far I haven't had any trouble installing or using the bd player. The price was great and I had no great expectation other than it working correctly. I would suggest in the next version you guys/gals at Vizio make it where you can add other channels. Great machine so far. Just bought it today.

(Posted on 10/15/11)
Product Photos