40" 5.1 Surround Sound
Home Theater with Wireless Subwoofer
MODEL NUMBER: VHT510

Model Features:

Dolby* Digital
DTS 5.1™
SRS CircleCinema HD™
SRS TruVolume™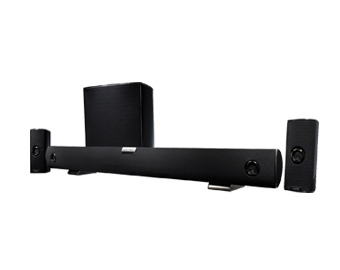 Product Overview
The VIZIO 5.1 Surround Sound Home Theater delivers big home theater sound in a sleek design that's perfect for 40" HDTVs and larger. With a compact Sound Bar that integrates front and center channels, two rear satellite speakers and a wireless subwoofer, this premium surround sound system supports Dolby Digital, DTS™, SRS CircleCinema HD™ and SRS TruVolume™ for a truly immersive audio experience.
Add home theater surround sound to any HDTV without the excess clutter of front and center speakers and excess wires. The subwoofer uses Wireless HD Audio™ 2.4 GHz to let you place the speaker anywhere in your home theater. It sends High Definition quality audio to other Wireless HD Audio compatible devices like VIZIO Home Theater Wireless Headphones. This advanced 5.1 surround sound system also includes a built-in amplifier and audio receiver to complete your home theater with all-in-one convenience.
Additional features of the Sound Bar with Wireless Subwoofer and Speakers:

• Perfect for 40" and larger HDTVs
• Universal Sound Bar with integrated center and front channels
• Wireless subwoofer with solid wood enclosure - Up to 60 ft of range, clear line of site
• Premium home theater with Dolby Digital and SRS StudioSound HD
• Easy setup with one cable from TV to Sound Bar, and auto-sync wireless subwoofer
• Built-in stand swivels for tabletop or wall mount
Learn More About VIZIO Sound Bars

SRS TruVolume™



SRS TruVolume™ is a revolutionary solution that provides a consistent and comfortable volume level for a more enjoyable listening experience. Simply set the volume once.
Wireless HD Audio™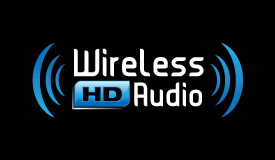 VIZIO's High Definition Wireless Audio allows you to experience your Home Audio from anywhere in your home.

SRS StudioSound HD™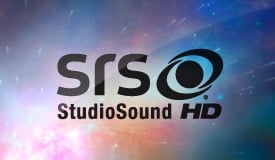 SRS StudioSound HD™ delivers immersive surround sound, deep bass, clear dialog and level volume.
*Subwoofer can be placed up to 60ft with clear line of sight.
*TM Dolby Laboratories
Tech Specs
Specifications
Soundbar dimensions with stand (WxHxD)
39.94 x 4.54 x 4.26
Soundbar dimensions without stand (WxHxD)
39.94 x 3.69 x 4.26
Subwoofer dimensions (WxHxD)
11.18 x 13.00 x 11.86
Subwoofer dimensions (WxHxD)
2.91 x 7.51 x 3.36
Satellite speaker dimensions (WxHxD)
2.91" x 7.56" x 3.36"
Soundbar w/ stand weight (LBS)
11.68
Subwoofer weight (LBS)
16 lbs.
Soundbar speakers – L and R
(1) 3" Driver and (1) 3/4" Tweeter for Left and Right Channels
Soundbar speakers – Center
(2) 2-3/4" Drivers and (1) 3/4" Tweeter
Subwoofer speaker
(1) 6-1/2" long throw high excursion driver
Subwoofer speaker
(2) 2" Drivers and (1) 3/4" Tweeter for Left and Right Satellite Speakers with adjustable swivel L/R tweeter
Wireless Audio Technology
2.4GHz, Wireless HD Audio™
Subwoofer wireless range
100Ft – Clear line of sight
Connection (Ports)
S/PDIF, RCA, Mic In
Sound Technology
Dolby Digital, DTS-HD™, SRS CircleCinema HD™, and SRS StudioSound HD™
Soundbar buttons
Power, Input, Volume -, Volume +
Remote
Home Theatre Slide-out Remote
IR Remote Performance
+/- 30 degrees horizontal, +/-20 degrees vertical, 30 feet
Power
Certifications
SRS TruSurround HD / SRS TruVolume / Dolby / DTS
Compliances
cULus, FCC, NOM, Energy Star 3.0
Mountable
Yes
Product Photos