37" Class (37" Diag.) LCD HDTV - Free Shipping
MODEL NUMBER: E370VL

Model Features:
• 37 inch diagonal
• 1080p Full HD
• 100,000:1 Dynamic Contrast Ratio
• Digital Ambient Light Sensor
• SRS TruSurround HD™
• SRS TruVolume™
• ENERGY STAR® 4.1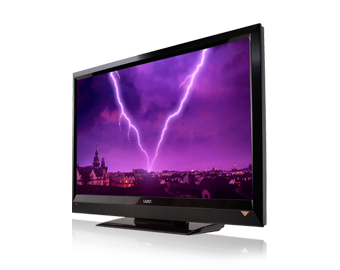 Product Overview
This 37" Class (37 inch diagonal) LCD HDTV packs a powerful punch at a price that doesn't break the bank. Top of the line features such as full 1080p high definition resolution and 100,000:1 contrast ratio deliver a picture that is crisp, clear and awe inspiring. The digital ambient light sensor ensures that you'll always have the most optimal picture by adjusting the brightness of the screen based on the conditions of your room. Rounding out the package are advanced sound technologies from SRS labs and 2 HDMI ports.
1080P FULL HD



Full 1080p High Definition resolution gives you over 2 million pixels, making the clarity and detail of your picture razor sharp. Learn More
Dynamic Contrast Ratio



100,000:1 Dynamic Contrast Ratio delivers deeper blacks and brighter whites through contrast and dimensions. Learn More
SRS TruVolume™



Limits volume inconsistencies between programming. Learn More
Ambient Lighting



Energy efficient sensors auto-adjust brightness for the perfect picture regardless of room conditions.
SRS TruSurround HD™



Delivers immersive virtual high definition surround sound. Learn More
ECO HD™



ECO HD™ exceeds new ENERGY STAR® 4.1* Guidelines, saving you money on your utility bills while limiting the impact on our planet.
*When TV is on.
Tech Specs
SPECIFICATIONS
Class:
37"

Viewable:
37" diagonal
Tuner:
NTSC/ATSC/QAM
Native Panel Resolution:
1920 x 1080 pixels
Signal Compatibility:
1080p, 1080i, 720p, 480p, 480i
Colors:
16.7 Million
Computer Support:
1920 x 1080, 1024 x 768, 800 x 600, 640 x 480 via RGB/HDMI
Dynamic Contrast Ratio:
100,000:1
Brightness:
450 cd/m2

Response Time:
6.5ms
Viewable Angle:
178/178 degrees (horizontal/vertical)
Pixel/Dot Pitch:
0.42675mm(H) x 0.42675mm(V)
SRS TruSurround HD™:
Yes
SRS TruVolume™:
Yes
SRS TruSurround XT™:
No
INPUTS (REAR)
HDMI with HDCP
2
RF Connector for Internal Tuner
1
Component YPbPr plus Stereo Audio:
1
S-Video:


Computer RGB:
1
Composite Video:
1

USB Ports:


Photo (JPEG):


INPUTS (SIDE)
HDMI with HDCP
RF Connector for Internal Tuner
Component YPbPr plus Stereo Audio:
Composite Video:
S-Video:
Computer RGB:
USB Ports:
1

Music (MP3):
Video (MPEG):
Photo (JPEG):
1

OUTPUTS (REAR)
SPDIF Digital Optical:
1
Stereo Audio:
1

Headphones:


ADDITIONAL FEATURES
Refresh Rate:
60Hz
Smooth Motion:
No
Panel Type:
CCFL, LCD

Picture-in-Picture (PIP):
No

Picture-outside-Picture (POP):
No
Zero Bright Pixel Defect Guarantee:
No

V-Chip:
Yes
3D Comb Filter:
No
3:2 or 2:2 Reverse Pull-down:
No
ATSC with 8VSB & QAM demodulation:
No
ATSC with MPEG-2 decoding:
No
NTSC Video decoding via Video:
No
Progressive Scan Video:
No
Color Temperature:
5400K, 6300K and 9300K
Color Fine Tuning:
Speakers:
Built-in 10W x 2 Speakers
Panel Lamp Life (typical):
50,000 Hours
Voltage Range:
120Vac at 50/60Hz
Power Consumption:
70W, <0.37W Standby
VIZIO Remote Control:
VR15
WEIGHT
Gross:
37.04 lbs
Net With Stand:
26.22 lbs
Without Stand:
24.47 lbs
DIMENSIONS
With Stand:
36.13"W x 25.23"H x 8.28"D
Without Stand:
36.13"W x 23.64"H x 3.67"D
Packaging Dimensions:
41.73"W x 29.99"H x 7.48"D

| | |
| --- | --- |
| CERTIFICATIONS | CSA, CSA-US, FCC Class B |
| | |
| --- | --- |
| COMPLIANCES | Energy Star 4.1 ATSC Spec A/65, EIA/CEA-766-A |
WALL MOUNT SPECIFICATIONS
Hole Pattern:
VESA standard 200 X 200mm spacing

Screw Size:
M6
Screw Length:
20.0mm
Screw Pitch:
1.0 mm
| | |
| --- | --- |
| VIZIO WARRANTY | One Year Parts & Labor Free Lifetime Technical Support |
34 Review(s)
Customer Reviews
My last non-HD TV died. It was bedroom TV. Just replaced with E370VL. Other two sets in house are Sony. The Vizio is perfect for bedroom use after I put a strip of electrical tape over lighted logo. Also no timer capability to turn TV on as alarm clock. But, can live with that for the price.

(Posted on 10/6/11)

My wife bought this Vizio about 6 months ago for the front room. The only issue we have with it is the Vizio logo under the screen stays on when tv is powered down. It's really not a major issue, as it serves as a night light too. Totally impressed with video/audio. It's in use use nearly 24/7 (got kids watching learning shows) and hasn't skipped a beat. Excellent picture. Will be getting a Vizio for the bedroom when my 36" Sony burns out. Thanks Vizio!

(Posted on 9/19/11)

Been checking out the vizio and samsung tv's. Looked at 32inch to 42inch, in both, and saw this 37 inch Vizio..this being in between what I was checking out, went and bought this unit.....am very please with it...great price..color is perfect...and right size...thanks vizio for a very nice tv...

(Posted on 8/5/11)

I just bought my first VIZIO today I've finaly got it all set up. I must say that all the other vizio's i have seen had a very nice picture on it. So now it was my turn for a new tv and I looked at several other brands but this 37" really caught my eye. I narrowed it down to a 42" sanyo and my 37" vizio and picture on the vizio was so much brighter and clearer than the sanyo. So I bought the vizio hands down. Im very confident I made the right choice you just cant beat them. Thanks VIZIO.

(Posted on 6/6/11)

This is the ONLY LCD TV 32 and 37 ( I have the 37 ) that has a REAL Channel GUIDE. All the other manyfactures forgot some of us use an outdoor antenna. I get 45 digital channels many in HD. No need to spend money for cable or sat.
Click the GUIDE once and you get all the info on the program you are watching. ( Many other TVs have that ) Now for the best part. Click it again and you get programming for at least 3 hours. Some into the morning of the next day. Highlight the program you are interested in and it gives you a rundown of that program information. Just awesome. My wife hates complicated systems and complicated remotes. This one is so straight forword. Wife LOVES it. That makes me happy. Toss the paper TV giude. Picture is just awesome. Sound is great. Got rid of the 32 SONY. This TV just blows it away.
32 is 720p, 37 is 1080, all around the specs of the 37 are better. Not much more in price either. I cannot say enough about theis TV. The frame is piano black. Beautiful !!!!

(Posted on 4/16/11)

I loved the crystal clear picture in high definition and also the option of the equalizer as well as changing the picture mode from standard to movies as well as vivid. We don't have many high definition channels that I absolutely love watching our local channels in high definition especially during the sports season. The picture just blows me away compared to the crate television that I had before and the sound is absolutely amazing my family has a few other Brands but the volume on the televisions only goes up as far as 60 and it's not really loud this one is so loud that I never bother turning it up past 25. As one of the little light it doesn't really bother me but I like the feature because it works as a night light being that I'm paralyzed from the neck down when I call someone they don't need to turn on and the lights because there's a nice orange reddish glow.

(Posted on 3/28/11)

I had never owned a vizio product at first and so I wasn't sure at first. But we have been very pleased with the picture and features of TV. Even the sound is pretty good! My one complaint at first was the vizio logo being lit all the time. I put a black piece of electrical tape over it an forgot about it!

(Posted on 2/7/11)

Just picked up this tv yesterday. Love it! Researched a bunch of tvs and narrowed it to the Vizio. The only complaint I have is the remote control. No literature on how to program it to my cable box or blu ray.

(Posted on 1/31/11)

Looking to purchase our 1st LCD TV to be installed in our 12x13 living room. So after reading all the reviews and comparing similar Class TVs and prices. I purchased this Vizio E370VL TV at Costco as a Christmas gift for my Family. I was extremely happy with the price (under $400.00) and the free 2nd year warranty. For two weeks we used the TV with DVD's , VHS and a digital TV signal while waiting to have HD service installed. Our DVD player is an up-converter and the picture was displayed as 1080p. Very nice. No need for a Blu-Ray player IMO. At least not until the price of Blu-Ray discs becomes affordable. We had mixed results with the Digital TV reception. Fair to Good at best. Some stations better than others. Some clear some fuzzy. Some programs actually had various results (clear to fuzzy) during the same telecast. It was a whole new ballgame when we connected to our new HD Satellite Receiver. (Dish HD) WOW!!!. What a picture. Make sure the HD Receiver is set on 1080i or you will not receive full HD. Football games were incredible. Hockey games are terrific. Movies are top notch. Saw things on rerun TV shows that I had not seen before. Animated movies are incredible. To my surprise the audio is much better than I had been led to believe it would be. NO Its not as good as my external system but its more than adequate. Very easy to navigate the Menu and settings which is a blessing for me. My only concern at this point in time is the life span of the TV but after consulting with a rep from Dish TV. I am at ease because he recommends only two brands of TV and Vizio is one of them. I'm happy, my kids are happy and my wife actually likes the TV. What more could I ask? A long and issue free Television lifespan would be nice.

(Posted on 1/11/11)

Just got this last week. Could not be happier with my purchase. This is a really good product, and unbeatable for the price.

Big Pros:
1. Great picture quality and accurate color, even with non-HD sources. No issues with jitter or artifacting, even during high-speed motion scenes.
2. Super simple menus and controls. Everything is well-designed and placed exactly where you'd expect to find it. You can even name the various inputs so you don't have to remember which port your devices are plugged into.
3. Decent sound, for an LCD (Note to the other reviewers who criticized the sound: Come on! If you're that passionate about audio fidelity, get a stereo. There's no LCD on the market that produces deep, rich audio... there just isn't enough room in the box to put large speakers.)
4. LOTS of options for adjusting color, contrast, picture size/position and audio (but the factory settings work just fine for me).
5. Uses less that 75 watts of energy when powered on, and less that 1 watt when off!

Minor Cons:
1. Very mediocre styling (looks like the tv and remote were designed in 1990).
2. The back-lit Vizio logo stays on even when the TV is off. (Come on, Vizio!)
3. Power button is hard to get to.
4. No side-mounted HDMI port.
5. The base could be sturdier (just a little too much wobble for my comfort). Also wish it had a swivel base.
6. The high-gloss finish on the plastic bezel is way too delicate. Managed to scratch it just wiping clean with windex and a paper towel.
7. The "quick start" instruction sheet is made for several different models, and most of it DOESN'T apply to this model.

Audio tip:
Though I believe the "TruVolume" setting is supposed to REDUCE problems with volume jumping between commercials and shows (and volume difference between channels), I found the sound was much better with this option turned OFF. Go to Menu -> Audio -> Advanced Audio to change.

Tips for AT&T UVerse users:
- Use remote code "1343" to program your UVerse remote, not the codes provided by Vizio or ATT.
- To ensure you're sending the highest resolution signal to your tv, go to Menu -> Options -> System Options -> Aspect Ratio, and change to 1080i.
Comment

(Posted on 1/10/11)
Product Photos