32" 2.1 Sound Bar with Wireless Subwoofer - Recertified
MODEL NUMBER: VHT210-B

Model Features:
Recertified - 90 day warranty
Dolby* Digital
SRS StudioSound HD™
SRS TruVolume™
Wireless HD Audio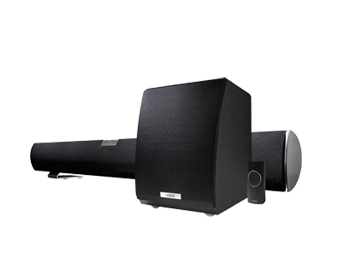 Product Overview
Continuing to raise the bar in home electronics, VIZIO brings you the 32" VHT210 Sound Bar with Wireless Subwoofer. Designed for home theater enthusiasts, this complete audio solution is perfect for 32" HDTVs and larger! Included is the Universal Sound Bar with integrated center and front channels, a wireless subwoofer that can be placed anywhere in your home theater* and cutting edge sound technologies such Dolby Digital, SRS StudioSound HD™ and SRS TruVolume™ delivering the high definition experience you've always desired!
Additional features of the Sound Bar with Wireless Subwoofer
• Wireless subwoofer with solid wood enclosure - Up to 100 ft of range, clear line of sight
• Easy setup with one cable from TV to Sound Bar, and auto-sync wireless subwoofer
• Built-in stand swivels for tabletop or wall mount
SRS TruVolume™



Limits volume inconsistencies between programming. Learn More
Wireless HD Audio™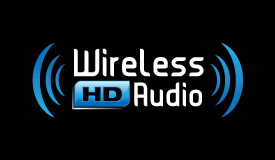 VIZIO's High Definition Wireless Audio allows you to experience your Home Audio from anywhere in your home.
SRS StudioSound HD™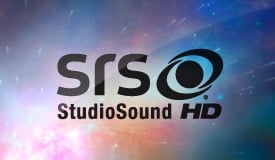 SRS StudioSound HD™ delivers immersive surround sound, deep base, clear dialog and level volume.
*Subwoofer can be placed up to 60ft with clear line of sight.
*TM Dolby Laboratories
Recertified Warranty
NINETY DAY LIMITED WARRANTY ON PARTS AND LABOR
VIZIO provides a warranty to the original purchaser of its products against defects in materials and workmanship for a period of ninety (90) days of non-commercial use. If a VIZIO product is defective within the warranty period, VIZIO will either repair or replace the unit at its sole option and discretion.
To obtain warranty service, contact VIZIO Technical Support via email: TechSupport@VIZIO.com or via phone at 877 MY VIZIO (877.698.4946) from 6:00AM to 9:00PM Monday through Friday and 8:00AM to 4:00PM Saturday and Sunday, Pacific Time, or visit www.VIZIO.com. Proof of purchase in the form of a purchase receipt or copy thereof is required.
For more information, please click here.
To purchase an extended warranty for this purchase, please click here or contact us at 877-698-4946 and select option 2 for customer service.
Tech Specs
PACKING DIMENSIONS
• 33.46"W X 14.17"H X 11.89"D
• Total Weight: 16lbs
DIMENSIONS
• SOUND BAR WITH STAND: 31.50"W X 4.00"H X 3.125"D
• SOUND BAR WITHOUT STAND: 31.50"W X 3.25"H X 3.125"D
• WIRELESS SUBWOOFER: 8.125"W X 10.625"H X 9.125"D
Sound Bar Speakers
• (2) Channels, left and right. Each channel consisting of (2)23/4" drivers and (1)3/4" tweeter
CENTER CHANNELS
• 2 – 2.75" MID BASS SPEAKERS
• 1 – 0.75" TWEETERS
WIRELESS SUBWOOFER
• 5.25" LONG THROW HIGH EXCURSION DRIVER
• *2.4GHz WIRELESS HD AUDIO - UP TO 60 FT
Subwoofer Speakers
• (1)5-1/4" long throw (high excursion) driver
Subwoofer Wireless Range
• 100ft - Clear line of sight
BUILT-IN DIGITAL AUDIO AMPLIFIER
CONNECTIONS
• 1X DIGITAL S/PDIF INPUT (OPTICAL)
• 1X ANALOG L/R INPUTS (RCA)
CONNECTIONS
• 1X DIGITAL S/PDIF INPUT (OPTICAL)
• 1X ANALOG L/R INPUTS (RCA)
Sound Technology
• Dolby Digital®, SRS TruSurround HD™, SRS WOW™ and SRS TruVolume™
Sound Bar Buttons
• Power, Input, Volume -, Volume +
Remote
• Home Theater slide-out remote
IR Remote Performance
• +/- 30 degrees horizontal, +/-20 degrees vertical, 30 feet
Power Input
• AC Power brick with 6' power cable for Soundbar, Integrated power supply on subwoofer with removable 6' power cable
Certifications
• SRS TruSurround HD™, SRS TruVolume™, SRS CircleSurround™ Headphone, SRS CircleSurround™ Decoder, SRS WOW HD™, Dolby Digital®
Compliance
• UL, FCC, NOM, Energy Star Audio/Video 2.0
CNET First Look - VIZIO VHT210 Sound Bar
August 9, 2010
Soundbar is surprisingly light. The subwoofer is very compact and its wireless design gives you a lot of flexibility on where you place it in your living room. The included remote has a great minimalist design...Read More