VIZIO 26" Class Razor LED™ TV

(26" Diag.)

MODEL NUMBER: E261VA

Model Features:
Edge Lit Razor LED™
SRS Trusurround HD™ + SRS Truvolume™
JPEG photo viewer
Ambient Light Sensing technology
Two HDMI® ports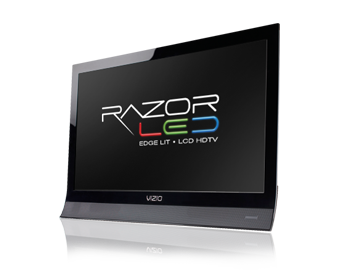 Product Overview
VIZIO's 26" Class Edge Lit Razor LED™ LCD HDTV features Razor LEDTM and 720p for brilliant color and contrast in a razor thin design. This sleek HDTV also features ambient light sensing technology for a perfectly-balanced picture that's never washed out or too bright and SRS Trusurround HD™ audio for advanced virtual surround sound. It also has two HDMI® ports for the best connection to a Blu-ray™ Player, laptop or game console, and meets ENERGY STAR® 5.3 guidelines making it friendlier to the environment and your wallet.
Edge Lit Razor LED™



Thin, beautiful Razor LED delivers deeper blacks and brighter whites for rich, vivid detail in brilliant HD. It's also Mercury Free and remarkably energy efficient, making it a smart and planet friendly choice. Learn More
Digital Photo Viewing



Enjoy a slideshow of your family and friends (via USB Drive)***
SRS TruSurround HD™



Delivers immersive virtual high definition surround sound. Learn More



Ambient Lighting



Energy efficient sensors auto-adjust brightness for the perfect picture regardless of room conditions.
***USB Flash Drive not included
Tech Specs
Video
Screen Size:
26" Class
Diagonal Viewable:
26"
Backlight Type:
Edge Lit Razor LED™
3D:
No
Resolution:
1366 x 768 (720p)
Colors:
16.7M (8-bit)
Dynamic Contrast Ratio:
N/A
Refresh Rate:
60Hz
Response Time:
5 ms
Viewable Angle (H/V):
160°/150°
OSD Language:
English, Spanish, French
Audio
SRS StudioSound™:
Yes
SRS TruSurround HD™:
Yes
SRS TruVolume™:
Yes
Speakers/Power Output:
2 x 5W
Connections - Inputs
HDMI:
2 (rear)
Component:
1 (rear)
Composite:
1 (side)
PC:
1 VGA (rear); DVI via HDMI
RF Antenna:
1 (rear)
Ethernet:
N/A
USB Ports:
1 (side)
Connections - Outputs
Digital Audio Out (SPDIF)
1 (rear)
Analog Audio Out
1 (3.5mm) (side)
Multimedia Support
Music:
No
Photo:
Yes
Video:
No
DLNA:
No
Additional Features
VIA (VIZIO Internet Apps):
No
3D File Formats Supported:
N/A
Smart Dimming:
No
Smooth Motion:
No
Ambient Light Sensor:
Yes
WiFi:
No
Bluetooth:
No
HDMI CEC:
Yes
HDMI ARC:
Yes
PIP (Picture in Picture):
No
Mercury Free:
Yes
Remote Control:
Yes
3D Glasses:
N/A
Certifications:
UL, CUL, FCC Class B, Canada (BETS-7), HDMI 1.4 incl. CEC/ARC, Dolby Digital
Compliance:
ENERGY STAR® 5.3, ATSC Spec A/65, EIA/CEA-766-A, California Energy Commission Auto Shut Down
Weight
Gross:
16.51lbs
Net With Stand:
13.12lbs
Without Stand:
11.75lbs
Dimensions
With Stand:
25.35"W x 17.01"H x 5.87"D
Without Stand:
25.35"W x 17.01"H x 1.54"D
Packaging Dimensions:
27.32"W x 19.21"H x 3.86"D
Wall Mount Specifications
Hole Pattern:
100mm x 100mm
Screw Size:
M4
Screw Length:
10mm
Screw Pitch:
0.7
Power Ratings
Power Consumption:
33.8W
Standby Power Consumption:
<1W
Energy Compliance:
Energy Star 5.3
| | |
| --- | --- |
| VIZIO Warranty | One Year Parts & Labor; Free Lifetime Technical Support |
VIZIO, Inc. has made every effort to ensure the accuracy of the information provided herein. All product specifications, functionality, features, configurations, performance, design and other product information described herein are subject to change without notice. VIZIO, Inc. disclaims liability for typographical, technical, or descriptive errors
Customer Reviews
Bought this for the main TV in our RV. Much larger and better picture than the 19" that came with it. We are pleased with the color and the size, which fits in the space just perfect. Bought it at Costco for $200.00 on close out. Sorry there's not media player, but for the price, we can get one at microcenter.

(Posted on 3/18/13)

My daughter owns two VIZIO's and that is the reason I purchased this. Love the clarity and richness of the picture that VIZIO produces. Can't wait to get the Blue Ray player and cable.

(Posted on 12/21/12)

My daughter owns two VIZIO's and that is the reason I purchased this. Love the clarity and richness of the picture that VIZIO produces. Can't wait to get the Blue Ray player and cable.

(Posted on 12/21/12)

When I got this TV, I couldn't decide on getting this one with the 720P picture/resolution or the smaller TV, 22" with 1080P. I ended up getting this one and was it disappointed. I also have a 42 inch that is beautiful in quality. My partner only will buy Vizio TV's and believes the quality on them are unmatched. However, the remotes are horrible and they should really invest on getting a new stock remote.

(Posted on 11/10/12)

I bought this tv to go in my son's room. I am really pleased with it. I also bought the 60" LED Razor and the two are definatly worth every penny. Vizio has by far the best bang for the buck. I am thinking about getting another one to go in my bedroom. I would definately recommend this product.

(Posted on 10/27/12)

I really like my new 26 inch LED Rasor. The entire front of the tv is the base. I think it adds to the look of the tv, but also adds to the stability. I had an older 27 inch tube type tv that lasted 14 years and I bet this one will last as long!! Thanks VISIO!!!

(Posted on 10/19/12)

Just recieved this Vizio HD tv from my boyfriends mother as an early Christmas present because our HD converter wasn't recieving a signal regularly for the past 3 months. Not only do we get ALL the local channels now but, I haven't had to adjust the antenna once since I plugged it in. The picture is crystal clear and the sound is great. I am very excited by the fact that I just learned I can hook my laptop up to it. I can't wait to play my PC hidden object games on it. With the 27" picture it should be alot easier to find any hard to find objects in any of the games I own. Fun!

(Posted on 8/22/12)

i just recently purchase this as my first lcd tv! its great i only use it for my playstation 3 and great picture quality and sound! recommend it to anyone!

(Posted on 8/7/12)

Love the TV, great picture, but no timer-on, which is very important to me. It only has timer-off.

(Posted on 7/10/12)

I just bought this TV at Sam's Club and I think it is a great TV I would recommend people to get this!!

(Posted on 4/25/12)

GREAT TV. MY First flat screen. never saw such beautiful color. Too small now need a 42in. Only problem is the remote it seems to be out of service. But recommend this tv to anyone.

(Posted on 3/19/12)

I bought this TV to replace a 27" tube TV on our motorhome.. I use it with a atom processor based bookshelf PC with wireless keyboard/mouse and USB HD tuner. I have not mounted it yet but am tesitng it in my lab. So far I am pleased witht he overall quality and picture eith it, I see on the specs here the resolution is 720 P the one I purchased stated 1080 P which is what I have it configured for under Windows 7. The picture is super sharp especially with HD movies like Avatar. Would like to find another to replace the Wiewxonic 24' monitor I use on my workstaion, 26" would be great ,not to large for monitor use.Cn't wait to get it mounted in the bus.

(Posted on 3/3/12)

I have officially entered into 21st century Television with this TV. I came from a 1980 Sony Trinitron that still works perfectly. This TV is absolutely amazing in color, detail and response. I just recently hooked up a Sony Blu Ray to it to really take advantage of the HD. With just broadcast TV, free HDTV is great and not compressed by cable!

Great TV for a great price!

(Posted on 2/17/12)