42" 2.1 Home Theater Sound Bar with Wireless Subwoofer
Best in class audio performance: 101dB of room filling, crystal clear surround sound with less than 1% total harmonic distortion2
Wireless subwoofer adds rich, powerful bass from anywhere in the room
Wirelessly stream your music from a smartphone, tablet or PC via Bluetooth
Premium audio with Dolby Digital® and DTS Digital Surround™ decoding plus DTS TruVolume™ and DTS TruSurround™ audio post processing
Best in class audio performance: 101dB of room filling, crystal clear surround sound with less than 1% total harmonic distortion2
Wireless subwoofer adds rich, powerful bass from anywhere in the room
Wirelessly stream your music from a smartphone, tablet or PC via Bluetooth
Premium audio with Dolby Digital® and DTS Digital Surround™ decoding plus DTS TruVolume™ and DTS TruSurround™ audio post processing
This item is currently in stock.
Product Overview

Sound & Vision Top Pick of the Year
Vizio sound bars surprised A/V critics across the board last year with their performance, feature content, and value...
soundandvision.com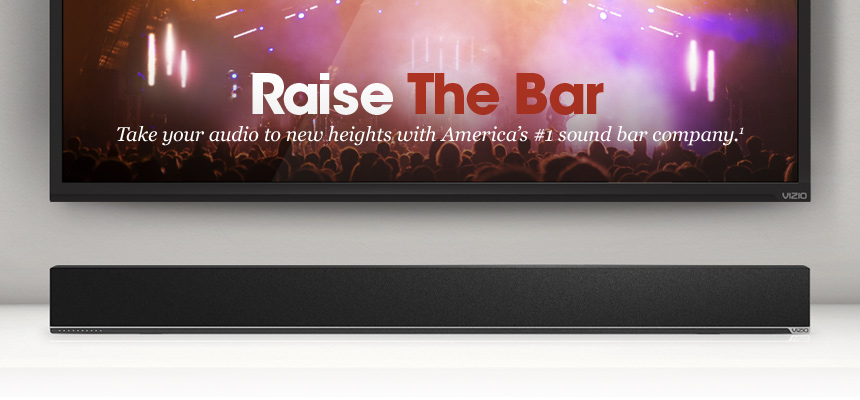 Next Level


Audio Experience

Full Surround Sound Immersion.

The VIZIO 2.1 home theater comes with a two channel sound bar and wireless subwoofer for thunderous bass. TV, movies, sports and games will come to life in up to 101dB of roof-raising volume with less than 1% of total harmonic distortion2.
Crafted For


Convenience

Set Up. Connect. Enjoy.
It's as Easy as 1-2-3.

Adding theater quality 2.1 surround sound to your room has never been easier. With a range of digital and analog inputs, all cables included to connect to most any HDTV, and easy to install wall mount brackets - you can saturate your room in sound with maximum convenience and minimal clutter.

Wireless Subwoofer
Setting up the wireless subwoofer is a simple plug-and-play process that delivers deep, room-shaking bass without tangled wires.

Bluetooth Connectivity
Built-in Bluetooth technology to let you stream music from your smart phone, tablet, music player or computer without even turning on your TV.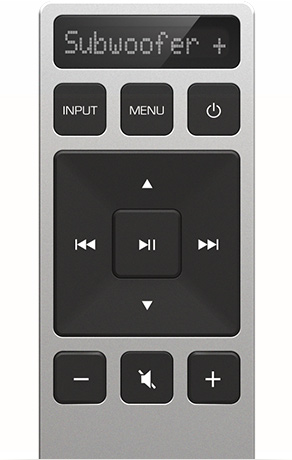 Display Remote
Using the sound bar is simple with a beautifully redesigned remote that puts an intuitive user interface right in your hand.

1Source: The NPD Group / Retail Tracking Service, units sold in the U.S., Jan 2011 – Dec 2013
2Sound Pressure Level measured using pink noise at 1 meter, C-weighted. Total harmonic distortion calculated as electrical measurement of amplifier distortion.
Tech Specs
Specifications
Sound Bar Size:
42"
Sound Bar Speakers:
Left & Right Channels (each) – 2x 3.0" mid-range drivers, 1x ¾" tweeters
Subwoofer Speakers:
6.0" Subwoofer
Sound Pressure Level:
101dB
Sound Bar Frequency:
90Hz - 20kHz
Subwoofer Frequency:
40Hz-90Hz
Audio Decoding Technology:
Dolby Digital, DTS Digital Surround
Sound Enhancement Technology:
DTS TruVolume, DTS TruSurround
Wireless Range (Subwoofer):
60' line of sight
Bluetooth:
Yes
Sound Bar Buttons:
Power, Input, Bluetooth, Volume Up, Volume Down
Remote:
Yes – Display Remote
Power Input:
120V 60Hz
Installation:
Table top and wall-mountable
Package Contents:
Sound Bar, Wireless Subwoofer, Remote, RCA to 3.5mm Audio Cable, Digital Coaxial Cable, Optical Digital Cable, Wall mounts, Quick Start Guide, Sound Bar Power Cable, Wireless Subwoofer Power Cable
Connections (Rear)
Analog Audio Input:
1x Stereo RCA
Analog Audio Input:
1x 3.5mm stereo mini jack
Digital Audio Input:
1x RCA (Coaxial)
Digital Audio Input:
1 x Optical (Toslink)
USB Input:
1x USB (for .WAV audio Playback)
Weight
Sound Bar w/ Feet (rubber pads):
8.4lbs
Subwoofer:
14.7lbs
Dimensions
Sound Bar w/ Feet (rubber pads):
42.32"W x 3.74"H x 3.15"D
Subwoofer:
6.93"W x 12.52"H x 15.86"D
Packaging Dimensions:
44.5"W x 10"H x 18.6"D
VIZIO, Inc. has made every effort to ensure the accuracy of the information provided herein. All product specifications, functionality, features, configurations, performance, design and other product information described herein are subject to change without notice. VIZIO, Inc. disclaims liability for typographical, technical, or descriptive errors
Customer Reviews
I'm pleased with the soundbar the quality is impressive I wish it was a little louder though. My only complaint is the remote I wish it had LED lighting. Good job Vizio!

(Posted on 5/22/14)

This Visio sound bar outperforms all others in its price range, hands down!!!! The set-up was simple, and everything worked first time out of the box without any glitches! Being able to program the sound bar to my existing cable remote was a snap, and one of my reasons for buying this unit, among others. The most important fact about this unit is the sound quality, and let me tell you it's superb!! Having so many settings for sound lets you fine tune the audio perfectly for any room. I give Vizio 5 Stars for a great product!

(Posted on 3/8/14)

Setup was more difficult than I had anticipated. I called support for assistance. Needed to use Digital Optical in order to get audio. Sound Bar itself is great. Subwoofer has great sound but audio is fading in and out when setting up and 'pairing' with Sound Bar. I'm still working out the kinks with that. Overall, I'm pleased with the purchase.

(Posted on 2/9/14)

Not a fan of Vizio until now! This sound bar exceeded my expectations for the price. The overall look of the sound bar and weight is very nice and it has a sturdy feel. The subwoofer box could have a better design and have a little more power but for a bedroom or living room it more than gets the job done. The LEDs on the sound bar which indicate the settings are a nice touch and the light color matches my Xbox One logo. This system also syncs right in to any tv or setup that you may have so there's no need to have all same brand items to make it work, and there's no need for multiple remotes, my Xfinity/Comcast remote or the voice control on my Xbox One puts the sound bar to sleep and adjusts the volume. This sound bar has a lot of options for tuning including a dialogue option which helps to increase the sound of voices in movies or tv to balance everything out. Bluetooth is a great feature as well. If you're skeptical about this system because of the brand, look beyond that because this system will without a doubt impress you, especially for the price!

(Posted on 12/26/13)