40" 2.1 Home Theater Sound Bar with Wireless Subwoofer | M-Series
MODEL NUMBER: SB4021M-A1

Model Features:
101dB of room rocking, crystal clear sound with less than 1% total harmonic distortion**
Stylish and slim – perfect complement for 42" and larger TVs
Wireless subwoofer adds rich, powerful bass from anywhere in the room***
Exceptional audio performance with Dolby Digital, SRS TruSurround HD™ and SRS TruVolume™ technology
Easy-to-read display – view volume, input setting and more
Convenient remote for easy access to volume and audio settings
Connect to your TV with an easy, one-cable setup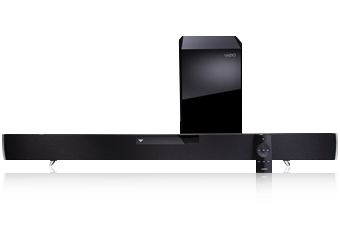 Product Overview
Learn More About VIZIO Sound Bars
* Source: The NPD Group/Retail Tracking Service Based on Units Sold January – October 2012
** Sound Pressure Level measured using pink noise at 1 meter, C-weighted. Total harmonic distortion calculated as electrical measurement of amplifier distortion.
*** Wireless Subwoofer range approximately 60 feet – line of sight from Sound bar.
Tech Specs
Specifications
Sound Bar Size:
40"
Sound Bar Speakers:
Stereo 2.75" Full Range Drivers
Subwoofer Speakers:
6.5" Subwoofer
Sound Pressure Level:
101dB
Sound Bar Frequency:
150Hz-19.5kHz
Subwoofer Frequency:
40Hz-150Hz
Sound Enhancement Technology:
Dolby Digital, SRS TruSurround HD™, SRS TruVolume™
Wireless Range (Subwoofer):
60' line of sight
Wireless HD Audio Technology:
N/A
Sound Bar Buttons:
Power, Input, Power, Volume Up, Volume Down
Remote:
Yes
Power Input:
100-240V~50/60Hz
Installation:
Table top and wall-mountable
Package Contents:
Sound Bar, Subwoofer, Power Adapter, 3.5mm to RCA Audio Cable, Quick Start Guide, Remote Control with Battery
Connections (Rear)
Analog Audio Input:
1 x 3.5mm Mini Jack
Digital Audio Input:
1 x Optical (Toslink)
Digital Audio Input:
1 x RCA (Coaxial)
USB Input:
1 x USB (for MP3 Playback)
Weight
Gross:
20lbs
Sound Bar With Stand:
4.8lbs
Subwoofer:
10.9lbs
Dimensions
Sound Bar With Stand:
40.12"W x 4.12"H x 2.07"D
Sound Bar Without Stand:
40.12"W x 3.32"H x 2.07"D
Subwoofer:
8.5"W x 12.78"H x 11.25"D
Packaging Dimensions:
43.7"W x 10.9"H x 15.7"D
VIZIO, Inc. has made every effort to ensure the accuracy of the information provided herein. All product specifications, functionality, features, configurations, performance, design and other product information described herein are subject to change without notice. VIZIO, Inc. disclaims liability for typographical, technical, or descriptive errors
Customer Reviews
Using with a Vizio 47" 3D Razor LED TV. The TV produces less than desirable sound, a complaint made by many, and I had it connected to a 7.1 sound system that takes up way to much space. The TV is currently on a stand and the sound bar is designed to fit over the stand. Mine came with an optical cable with low profile connectors that fit the sound bar and TV with no problems. Will be wall mounted as we redesign the living space. Only issue is ability to control sound bar from u-verse remote. Quick start guide mentions this on pg 15, but does not identify the device code. Excellent value.

(Posted on 5/19/13)

I recently upgraded from an old projection style TV to a Vizio LED and noticed one big difference. The sound! Suddenly I missed my old clunker. I made my way to BJs and purchased the SB4021 sound bar. The great package design made it easy to tote home. Once getting it home the set up was simple. There was that sound I was missing! I recently purchased an optical cable making it even better.

My one disappointment is not being able to sync it with my AT&T Uverse universal remote nor the out of the box Vizio TV remote. I did exhaustive searching, including contacting Vizio and AT&T support but since no luck.

Otherwise it's a great product at a great price.

(Posted on 4/7/13)

Just picked up this sound bar to go with my Vizio 47" M series TV and all I can say is WOW! The sound from this little gem is just like being at the movie theater! The setup is super easy and you can control every thing on the sound bar from the remote. If your watching a movie and you wish you could + or - more bass or treble you can right from the remote! I did call Vizio's help line and for once I was surprised. I was talking to someone in LESS then 1 minute and the call center was in the USA! For right now I am useing the 3.5mm cable hookup and the sound is unbelievable! I did see a review where they said that the sound bar gets in the way of the TV IR sensor when the TV is on a stand but for me anyway it is not and is working fine and as far as the power light to small the last thing I want to see is a big bright light on the front of this that would be to annoying for me. Who ever designed this bar did a great job!


Pros:
GREAT clean and clear loud sound, this thing rocks!
Easy setup
Looks great
Call center in the USA (way to go Vizio)

Cons:
My neighbors will be calling me to turn it down.

I highly recommend this Vizio sound bar!!

(Posted on 3/27/13)

Finally, the TV sounds like a movie theater. Sets up quickly and easily - no obnoxious wires.
Replaced a 5 speaker system with this one soundbar - and if anything, improved the sound quality. Gone, are the yards of wires connecting 5 speakers and a subwoofer. Gone is the constant sound tweaking.
This is an excellent sounding component, easily installed and readily enjoyed. Well worth the purchase.
Only one con - can't find a remote code to link it to my Time Warner remote control.

(Posted on 3/2/13)

Bought this from Sam's Club for $178.00 Hook up was easy. The sound is great. I had one problem with the remote, It didn't work out of the box. I called support and they walked me though many things and it still didn't want to work. They sent me a new remote. I have read other reviews on other web sites that the remote has given others problems also. I think Vizio has knows it, but don't be surprised if your remote acts funny or doesn't work. I have since programmed my DirecTV remote to work the sound bar. I saw in one post that they said the sound bar does go off if no sound is going though it, it will, BUT there is an option in the menu on the remote to turn that option on or off. I only use the sound bar and keep the TV speakers off. I recommend this product to anyone who wants great sound with easy set up.

(Posted on 2/11/13)

Purchase this from Costco for one 180.00 haven't had it very long however it has very clear sound, have enjoyed it this far. The remote being small is easy to misplace, but no real complains.

(Posted on 2/10/13)

The system is wonderful!! Great quality, crisp, clear sound!! Highly recommend to anybody!! Only problem I have had is with the remote the slide part that has your bass, treble, and sub function keeps breaking I have already been through one remote and now need to replace it again, but unfortunately they dont have any more in stock.....but overall 4 out of 5 stars!!!!!

(Posted on 2/1/13)

Having received this from my wife for Christmas it was everything I expected. I had it atop my wish list and she came through. She found it at Sam's Club as advertised for $179.95. Very easy to hook up right out of the box. The wireless sub woofer can really 'boom the room'........I love it! Now I'm looking forward to watching movies and really hearing all the effects. I highly recommend this Vizio soundbar. Get one! You will love it! User friendly remote is the definition of simplicity. My only complaint........the tiny 'power on' green LED. WAY TOO SMALL! Vizio could have made this much more significant. Otherwise.......great product. I can live with that one tiny flaw.

(Posted on 1/13/13)

Happy with the price, $178 at Walmart (after wife's discount). Easy to unpack and set up. Finally got it figured out how to sync with my Vizio 50" LCD (another Walmart special), crank the sound bar volume all the way up, turn off the TV speakers, then use the TV remote. Only complaint is sound bar power turns off when TV is turned off for an extended period, need to turn sound bar back on each time TV is turned back on. I wish the sound bar would automatically turn back on and go to full volume when TV is turned on in the morning. Sound is great tho, rattles the whole house with the Bass turned too high, need to set it a bit lower... Ha!!

(Posted on 1/3/13)

I recently purchased this system to go with my 60" television and replace a 5.1 system. I heard the system at a SAMs club and was impressed. Purchased it for $179 as it had an instant $20 rebate. When I got it home it took me about 20 minutes to unpack it and then set it up and connect it. Wow was I amazed at the sound. It blew the doors off of my previous 5.1 system. I was actually considering purchasing a Sony 5.1 system with a built in blue ray player that was more than double the price but after listening to it at Best Buy was unimpressed so decided to go with the Vizio unit. I made the right decision. The sound is crisp and clear along with nice round bottom end produced by the sub woofer. Definitely worth the $179 I paid. The sound rivals $500 systems that I've listened to. You get a great sound in a small package. I highly recommend it. I liked it so much I bought one for my son for a Christmas present.

(Posted on 12/24/12)

i'm actually looking for reviews on this sound system. i recently purchased a 55'' vizio lcd, and am looking to upgrade the audio. any information and experience would be appreciated!

(Posted on 11/27/12)

good

(Posted on 11/26/12)