32" Class LCD HDTV
MODEL NUMBER: E322VL

Model Features:
• 31.55 inch diagonal
• VIZIO® Internet Apps™
• 802.11n Wireless Networking
• 1080P Full HD
• 50,000:1 Dynamic Contrast Ratio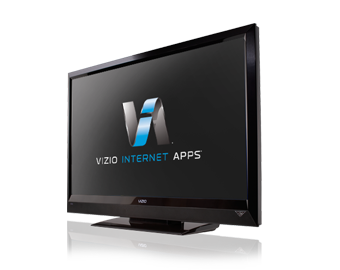 Product Overview
VIZIO's 32" Class (31.55 inch diagonal) LCD HDTV with VIZIO Internet Apps™ puts the best of the web right on your TV screen, giving you the convenience of on-demand movies, TV shows, social networking, music, photos and more at the push of a button. With built-in WiFi (802.11n) for easy set-up, the E322VL also boasts full 1080p HD and delivers superior picture and audio quality at an amazing value.
This stylish HDTV delivers superior audio using SRS TruVolume™ and SRS TruSurroundHD™ for advanced virtual surround sound and has three HDMI ports to connect up to three HDMI devices to your HDTV. The E322VL also exceeds ENERGY STAR® 4.1 Guidelines to reduce energy consumption and has built-in ambient light sensing technology, which automatically adjusts backlight levels to the brightness of its surroundings.
VIA (VIZIO Internet Apps)



Easily connect to the Internet and stream movies and TV shows, listen to music and get the latest news, sports and weather. Learn More
1080P FULL HD



Full 1080P High Definition resolution gives you over 2 million pixels, making the clarity and detail of your picture razor sharp. Learn More
Ambient Lighting



Energy efficient sensors auto-adjust brightness for the perfect picture regardless of room conditions.
SRS TruVolume™



Limits volume inconsistencies between programming. Learn More
Wi-Fi Technology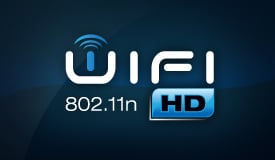 The latest 802.11n Wireless Networking is built-in making connecting to the Internet quick and easy.
Dynamic Contrast Ratio



50,000:1 Dynamic Contrast Ratio delivers deeper blacks and brighter whites through contrast and dimensions. Learn More
SRS TruSurround HD™



Delivers immersive virtual high definition surround sound. Learn More

ECO HD™



ECO HD™ exceeds new ENERGY STAR® 4.1 Guidelines, saving you money on your utility bills while limiting the impact on our planet.
Tech Specs
SPECIFICATIONS
Class:
32"
Viewable:
31.55" diagonal
Tuner:
NTSC/ATSC/QAM
Native Panel Resolution:
1920 x 1080 pixels
Signal Compatibility:
1080p, 1080i, 720p, 480p, 480i
Colors:
1.06 Billion
Computer Support:
1920 x 1080, 1024 x 768, 800 x 600, 640 x 480 via RGB/HDMI
Dynamic Contrast Ratio:
50,000:1
Brightness:
500 nits
Response Time:
5ms
Viewable Angle:
178/178 degrees (horizontal/vertical)
Pixel/Dot Pitch:
0.510mm(H) x 0.510mm(V)
SRS TruSurround HD™:
Yes
SRS TruVolume™:
Yes
SRS TruSurround XT™:
No
INPUTS (REAR)
HDMI with HDCP
2
RF Connector for Internal Tuner
1
Component YPbPr plus Stereo Audio:
1
S-Video:


Computer RGB:
1
Composite Video:
1
USB Ports:
1
Photo (JPEG):
INPUTS (SIDE)
HDMI with HDCP
RF Connector for Internal Tuner
Component YPbPr plus Stereo Audio:
Composite Video:
S-Video:
Computer RGB:
USB Ports:
1
Music (MP3):
Video (MPEG):
Photo (JPEG):
OUTPUTS (REAR)
SPDIF Digital Optical:
1
Stereo Audio:
1
Headphones:


ADDITIONAL FEATURES
Refresh Rate:
60Hz
Smooth Motion:
No
Panel Type:
CCFL, LCD
Picture-in-Picture (PIP):
No
Picture-outside-Picture (POP):
No
Zero Bright Pixel Defect Guarantee:
Yes
V-Chip:
Yes
3D Comb Filter:
No
3:2 or 2:2 Reverse Pull-down:
No
ATSC with 8VSB & QAM demodulation:
No
ATSC with MPEG-2 decoding:
No
NTSC Video decoding via Video:
No
Progressive Scan Video:
No
Color Temperature:
5400K, 6300K and 9300K
Color Fine Tuning:
Red/Blue/Green

Speakers:
Built-in 10W x 2 Speakers
Panel Lamp Life (typical):
50,000 Hours
Voltage Range:
120Vac at 50/60Hz
Power Consumption:
98.39W, <0.37W Standby
VIZIO Remote Control:
VR13
WEIGHT
Gross:
lbs
Net With Stand:
36.38 lbs
Without Stand:
34.61 lbs
DIMENSIONS
With Stand:
31.18"W x 22.44"H x 7.05"D
Without Stand:
31.18"W x 20.83"H x 3.52"D
Packaging Dimensions:
35.03"W x 27.95"H x 7.36"D
| | |
| --- | --- |
| CERTIFICATIONS | CSA, CSA-US, FCC Class B |
| | |
| --- | --- |
| COMPLIANCES | Energy Star 4.1 ATSC Spec A/65, EIA/CEA-766-A |
WALL MOUNT SPECIFICATIONS
Hole Pattern:
VESA standard 200 X 200mm spacing
Screw Size:
M6
Screw Length:
20.0mm
Screw Pitch:
1.0 mm
| | |
| --- | --- |
| VIZIO WARRANTY | One Year Parts & Labor Free Lifetime Technical Support |
VIZIO, Inc. has made every effort to ensure the accuracy of the information provided herein. All product specifications, functionality, features, configurations, performance, design and other product information described herein are subject to change without notice. VIZIO, Inc. disclaims liability for typographical, technical, or descriptive errors.
Customer Reviews
I purchased this Vizio E322VL at Costco on 07/11/11. I am enjoying the TV especially its wi-fi capability and enjoy the apps available. No complains here.

(Posted on 12/2/11)

The product is well worth the price. Nice and clear picture. However, I can't get my wireless broadband to work for my internet. Any suggestions?

(Posted on 10/24/11)

can any one give me settings for best blu ray picture? im using my ps3 as the blu ray player and i have hdmi cables as well. please tell me good settings for this

(Posted on 10/8/11)

I received this TV as a gift and love it! The only problem I am having is with the background noise. It makes it difficult to hear the dialogue. Is there a way to fix this?

(Posted on 9/17/11)

This TV is great, but I can't get the pandora appt to work yet either. My Clear wifi service goes great with this tv. The set up was easy and the apps are easy to load. I wish there was a HULU app and not just HULUplus.

(Posted on 9/15/11)

I have had this TV for about 3 months now. I think it is great. The remote is easy to use. The VIA Apps are great. Picture and sound are very nice. Cosco is selling this set for $349.00. If you have been looking to by this type of TV, this is the one. Enjoy.

(Posted on 8/10/11)

I needed a TV for my office and purchased a 32" Hannspree from Costco for $300. I had to take it back because the color and picture was dull and fuzzy. The set was cheaply made and also found the external audio jack doesn't work. I replaced it from Costco with this Vizio for $350, only $50 more than the Hannspree. The picture and sound is fantastic. The internet apps function is not bad either. I owned all Sony TVs in my house. I had another 24inch Vizio in my bathroom and it also works great. If I ever need another inexpensive TV, Vizio would be the brand I choose. BTW, Costco add another year of manufacturer's warranty (Total two Years) if you purchase from them.

(Posted on 7/5/11)

This TV has been selling for $350 at costco. Pretty good deal since it is a 1080p set with built-in WiFi and internet apps (including Netflix and Hulu Plus). It also has a USB port, but don't know if it works for video files.

The quality with OTA channels is great, but Hulu Plus looks amazing, as it plays in HD. One problem is the remote is just a basic remote with no keyboard, making it cumbersome for some of the apps like Facebook and Twitter, and even searching in Netflix and Hulu Plus, or just logging in to them.

To answer the last guy, the tv has both Optical out (for surround sound from the HDTV channels, and stereo from everything else) and RCA out (red and white cables) for stereo. You can buy a "Y-cable" that goes from RCA to 1/8" phone (female) and plug in your own headphones.

My own questions are if I were to buy the VR10 (bluetooth remote) would it work with this? Would it work with any Bluetooth remote (is there even Bluetooth on this tv)? Can I use a USB keyboard?

(Posted on 6/30/11)

I bought this today at Target for the low price of $349 and it is worth every penny. Great picture and sound, setup was simple, it found my router and hooked itself up.

My only complaint, and this is my fault, no simple headphone jack :-( I like to watch TV looooooooong after the wife and kids are in bed :/ and like some volume ... anyone know a cheap solution to this problem ?>?>>>>>>??????

(Posted on 6/15/11)

I have a 60 inch DLP in my living room and needed an HD for my bedroom. This tv is everything that I was looking for in a tv for my room. The internet apps are an awesome feature and I love the fact that I can watch NetFlix with no other equipment necessary. I got a great deal at Sam's Club and paid a mere $388.00 for it. Great picture on HD channels as well as the non-HD channels. Overall, one of the best purchases I have ever made electronics wise!!!!!!

(Posted on 5/28/11)

- Picture quality is excellent! I used to own a 42" Sony Bravia and this Vizio can hang with the Sony as far as picture quality goes however, minor picture adjustments were required.
- Sound quality is not amazing but it is totally acceptable.
- Set-up was about as simple as it could be. I set-up mine with a Playstation 3, Cable programming, and a wireless router.
- The internet Aps are very cool, however, this model DOES NOT come with the QWERTY keyboard remote. Facebook is a major pain in the rear without the keyboard, but it is doable. Vizio's keyboard remotes will not work with this TV either. I spoke with a Vizio rep on 3-31-2011. The rep said that there may be a keyboard for this TV available soon but there were no guarantees.
- I cannot get the Pandora internet radio app to work, it says "loading" continuously.
- I haven't tried using the USB port to add pictures yet.
- All-in-all, I deffinitely recommend this product!!

(Posted on 3/31/11)

I like one of the reviewers was not looking to buy this TV, I was going to buy one of the LED/LCD Televisions but when I saw the VIA and the price difference I thought, dude this isn't going to by the game tv it's going in th bedroom!
I got it home, it linked to my wifi seamlessly and I haven't looked back since. I use it to Tweet My Wife reads her facebook! The Vudu app is great and I just got HULU Plus! I paid $420 with Tax. And I would do it again! The only thing missing is Vizio's Bluetooth QWERTY remote. Dog Gone it's difficult to Facebook with this remote! So you may still sit there with your lap top while watching tv, you at least will have plenty of tv and movies! As long as you keep your internet access!

(Posted on 1/16/11)

after a recent software update and correction of the faulty USB issue VIZIO comes through for all its loyal customers.

This TV was one heck of a deal. BRAVO VIZIO!!!

(Posted on 1/13/11)

TV has an excellent picture. The only negative thing I have to say so far is a noise after the TV has been turned off for a couple of seconds. It sounds like a hard drive or fan spinning and it doesn't stop until the TV is turned on. It's not really loud but noticeable when the room is quiet.

(Posted on 1/12/11)

I just went out and bought the Vizio 32" LCD with Internet Apps. In my opinion it is a good buy, since I did not want to watch Netflix on my computer. The only thing that I am not too sure about is the constant using of the remote to log on to any social networking site, like Facebook.
All in all, I am quite pleased with this purchase since this is my first ever flat screen television. I know what I am going to get for my bedroom next time I go television shopping. :-)

(Posted on 1/10/11)

I bought this TV at Sam's and am not disapointed the performance. The picture is very clear, the surround sound is excellent. Althought I have not used all the bells and whistles, there are no compalints here.

(Posted on 1/10/11)

the tv works well but makes a annoying noise when its turned off. i thought i was going to come with a qwerty remote like advertised but did not. and on some channels it narrates the show and you cant turn it off. the good things are the picture quality and the internet apps

(Posted on 12/29/10)

This hdtv is fantastic. The color, sound and picture clarity on this tv is wonderful. This is my first experience with vizio. I am quite impressed with this brand. I paid $389.99 for this tv from costco. The built in wifi was just a bonus. So far no cons.

(Posted on 12/19/10)

PROS

picture quality at 1920 (1080p)is excellent when consider most in this price range are lower resolution

sound quality is good with forward facing speakers

VIA internet applications provide an excellent assortment of streaming audio/video and social network access - dont expect it to replace your computer though

CONS

USB does not work although instructions specify must use FAT or FAT32 formatting for pictures - whats the deal VIZIO tech?? not even offered as an on-screen input option

WiFi-N only works with 2.4ghz (must reconfigure router and all other attached devices just to get TV internet access to work


(Posted on 12/9/10)

The tv was very easy to setup and the picture is great. The only problem is it would be an advantage to have the ability to use a wireless keyboard. It would work out great for the Facebook.

(Posted on 11/27/10)

This was a great buy this year for a TV with 1080p and Vizio Internet Apps.
It hooked into my D-Link Xtreme router without a hitch, and I was up and running with high definition from DirecTV after adjusting the settings on the Satellite Receiver to add 480, 720, and 1080 resolutions (i and p). The TV was displaying too wide of a picture before the settings were adjusted on the satellite.

The picture is sharp and contrasty and the 60 Hz is fast enough for me.

The only thing I found unfortunate was the Bluetooth is not supported, so the remote that comes with it doesn't have the QWERTY keyboard that slides out. But, the onscreen letters are in alphabetical order and are used to sign in to the Yahoo! account, for instance.

I got a 3 year warranty (instead of the 1 year included warranty) from Squaretrade for this unit so that if it breaks down I'll be covered for the original price I paid, if they cannot fix it.



(Posted on 11/25/10)

I bought this TV new off of Ebay for a lower price than Walmart which was selling it for $498.

The picture was kind of wide on the DirecTV receiver, but that was corrected by adjusting settings for the 480i 720p 1080p, etc. selections on the receiver.
After that, the 1080i picture came in very clear for most of the HD programming available through satellite.

The VIA or Vizio Internet Applications were what convinced me to buy this set. It easily set itself up with my D-Link Xtreme N-Router and I was up and running.

The only thing that I think would be nice to have would be the Bluetooth QWERTY keyboard remote found on the LED version of this model.

I searched for availability of the QWERTY keyboard for the E322VL, but found none for it.

There was a video of the Vizio Internet Apps tv on Youtube that showed a picture of the QWERTY remote, but I couldn't find one that would work with this tv.

I guess, if I want full functionality of Internet on this TV, I would need a computer and a wireless keyboard and mouse to work it from my living room seat.

However, for the price, I got a lot of 'bang' for the buck, so far.

Nice TV.



(Posted on 11/24/10)

I bought this TV by chance at Walmart since I was trying to buy the 1080p version that cost $50 less but they brought this one out wish wasn't on the floor display. When I saw that this one had the internet apps and wireless internet capabilities for a few more dollars I went for it and I'm not disappointed. The picture is excellent and the tv apps work quite well, especially the vudu app that allows you to download 1080p movies. Used it once and it stream the entire movie flawlessly. Not one single hitch at all for the entire movie, and I was using the wireless feature. The other apps.work just as well. I highly recommend this TV if you like the internet apps.
Otherwise just buy the 1080p TV without the apps.

(Posted on 11/9/10)