32" Class (31.51" Diag.) LED HDTV
MODEL NUMBER: E320VP

Model Features:
• 31.51 inch diagonal
• Edge Lit Razor Thin Design with a 1.34" Profile*
• 100,000 to 1 Dynamic Contrast Ratio
• SRS TruSurround HD™ & SRS TruVolume™
• Ambient Light Sensing technology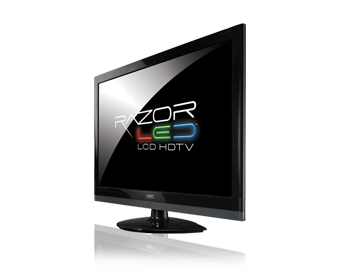 Product Overview
The E320VP 32" Class (31.51" Diag.) edge lit Razor LED™ LCD HDTV is brilliant in color, rich in detail and deep in contrast – all in a razor thin design that is less than 1.34" in profile. This immaculate beauty offers razor sharp clarity and delivers a 100,000:1 dynamic contrast ratio for deeper blacks and brighter whites. Enjoy ultimate connectivity with two high definition inputs.
But it doesn't stop there! Experience advanced sound technologies from SRS Labs and take pleasure in knowing this mercury free, energy efficient LED LCD HDTV exceeds new ENERGY STAR® 4.1 Guidelines, conserving our planet's resources while saving you money.
Razor LED



Razor LED - VIZIO is the first to bring LED technology to smaller size LCD HDTVs! This Mercury Free, Energy Efficient, Razor Thin HDTV achieves a 100,000:1 Dynamic Contrast Ratio giving you deeper blacks and brighter whites - 400 nits brightness.
Dynamic Contrast Ratio



100,000:1 Dynamic Contrast Ratio delivers deeper blacks and brighter whites through contrast and dimensions. Learn More
SRS TruVolume™



Limits volume inconsistencies between programming. Learn More
Mercury Free



The display's backlight is environmentally-friendly due to the fact that LED edge lights do not utilize mercury, an environmentally harmful substance.
Green Leaf Certification



Green Leaf is the Certification issued by Intertek that Hazardous Materials in electronic goods were not used by RoHS standards and is to promise for a reduction in climate changes impact, non-renewable energy, carbon emission. Learn More
Razor Thin Styling



A 1.34" thin profile* that is simply amazing!
Ambient Lighting



Energy efficient sensors auto-adjust brightness for the perfect picture regardless of room conditions.
SRS TruSurround HD™



Delivers immersive virtual high definition surround sound. Learn More
ECO HD™



ECO HD™ exceeds new Energy Star® 4.1 Guidelines to reduce energy consumption and save you money on your utility bills while limiting the impact on our planet.
*Without Stand
Tech Specs
SPECIFICATIONS
Class:
32"

Viewable:
31.51" diagonal
Tuner:
NTSC/ATSC/QAM
Native Panel Resolution:
1366 x 768 pixels
Signal Compatibility:
1080i, 720P, 480P, 480i
Colors:
1.06 Billion
Computer Support:
1360 x 768 via HDMI, 1360 x 768, 1024 x 768, 800 x 600, 640 x 480 via RGB
Dynamic Contrast Ratio:
100,000:1
Response Time:
9ms
Viewable Angle:
178/178 degrees (horizontal/vertical)
Pixel/Dot Pitch:
0.51075mm(H) x 0.51075mm(V)
SRS TruSurround HD™:
Yes
SRS TruVolume™:
Yes
SRS TruSurround XT™:
No
INPUTS (REAR)
HDMI with HDCP
2
RF Connector for Internal Tuner
1
Component Video:
1 via VGA to Component Adapter

S-Video:


Computer RGB:
1

Composite Video:
1

USB Ports:
1

Photo (JPEG):
1

INPUTS (SIDE)
HDMI with HDCP
RF Connector for Internal Tuner
Component YPbPr plus Stereo Audio:
Composite Video:
S-Video:
Computer RGB:
USB Ports:


Music (MP3):
Video (MPEG):
Photo (JPEG):
Yes

OUTPUTS (REAR)
SPDIF Digital Optical:
1
Stereo Audio:


Headphones:


ADDITIONAL FEATURES
Refresh Rate:
60Hz
Smooth Motion:
No

Panel Type:
LED - Edge Lit

Picture-in-Picture (PIP):
No

Picture-outside-Picture (POP):
No
Zero Bright Pixel Defect Guarantee:
Yes

V-Chip:
Yes
3D Comb Filter:
Yes
3:2 or 2:2 Reverse Pull-down:
No
ATSC with 8VSB & QAM demodulation:
Yes
ATSC with MPEG-2 decoding:
Yes
NTSC Video decoding via Video:
Yes
Progressive Scan Video:
Yes
Color Temperature:
5400K, 6300K and 9300K
Color Fine Tuning:
Red/Green/Blue

Speakers:
Built-in 10W x 2 Speakers
Panel Lamp Life (typical):
60,000 Hours
Voltage Range:
120Vac at 50/60Hz
Power Consumption:
58W, <1W Standby
VIZIO Remote Control:
VR15

WEIGHT
Gross:
18.74 lbs
Net With Stand:
14.11 lbs
Without Stand:
13.25 lbs
DIMENSIONS
With Stand:
30.33"W x 21.55"H x 7.35"D
Without Stand:
30.33"W x 21.55"H x 1.33"D
Packaging Dimensions:
32.40"W x 23.81"H x 5.53"D

| | |
| --- | --- |
| CERTIFICATIONS | CSA, CSA-US, FCC Class B |
| | |
| --- | --- |
| COMPLIANCES | ENERGY STAR® 4.1 ATSC Spec A/65, EIA/CEA-766-A |
WALL MOUNT SPECIFICATIONS
Hole Pattern:
VESA standard 100 X 100mm

Screw Size:
M4
Screw Length:
10.0mm
Screw Pitch:
1.0 mm
| | |
| --- | --- |
| VIZIO WARRANTY | One Year Parts & Labor Free Lifetime Technical Support |
Customer Reviews
Badass tv blu-ray movies look really good

(Posted on 4/5/12)

Did a ton of research and found this HDTV to be great for the size, price, and features it comes with. Would recommend it and would guy again.

Testing it with my new BluRay player later this week.

(Posted on 3/5/12)

Only just had it a couple of day but seems to be a hit in the family. Picture good and sound is good for the price, not top of the line but nice. First try to replace our old TV was with a toshiba that went back the next day, now that really was bad. the remote would be great if I could get it out of the old guys hands. Very easy to get up and running. Kids have their Wii hooked up and that looks good. Have run out of hook up space once we connected the Wii,Roku and DVD player no more room for anything else so can't add any more new toys but that fine with me. Over all we are happy.

(Posted on 2/24/12)

I bought this tv from my work (walmart) for 329. I bought it because i moved out of my old house and needed a new tv. and this is the one i was deadset on. The sales associates tried to show me others that were slightly cheaper but i had never heard anything but good things about the Vizio brand tv's and so they sold me the one i asked for. And i cannot tell you how happy i am with the purchase. i had it set up in 10 mins and was streaming video via laptop and HDMI by minute 11. so easy to work with and use. The picture is downright, hands down the best in its class. Sound leaves something to be desired. but a soundbar or small sound system should fix that :) i recommend this tv to EVERYONE when looking into the 32" class of televisions. thanks Vizio for the fantastic build.

(Posted on 2/18/12)

I had first got a Westinghouse (I know I know) but then returned it and got this one for my bedroom. It's my newest love. My grandma was big into Vizio TVs and I really like her TV. I'm so happy I got this one and didn't keep the other. The picture is amazing and I honestly don't see anything bad about the sound. I hooked up my laptop to it just playing around and found it was the coolest thing and the picture is great. I want to get another Vizio for the living room except larger:)

(Posted on 2/3/12)

We were locked in to the Vizio 32" LED Razor for our master bedroom TV, but a salesman talked us in to the 32" Sony Bravia, which was $50 less. After 6 days with the Sony we returned it and paid the extra $50 for the Vizio and found it to be far superior to the Sony. My wife finally had to tell me to shut up because I kept saying over and over how awesome the HD picture is - the Vizio LED HD picture is friggin outstanding! The audio leaves a bit to be desired, but I'll gladly invest in a sound bar to round things out!

(Posted on 1/22/12)

I bought this flatscreen off Ebay for $222.50 as my X-mas gift to ME! It was a store return. It was missing the remote (I got 2 factory sealed remotes off ebay for $29) 2 weeks with it now. The picture thus far has been awesome, my only complaint was low bass range response from the speakers (but what can one expect from speakers with less than a 10w response with less than a 2" profile.) I added a soundbar I picked up at Wal-mart for $49.99 (just so happened I got $50 gift card for X-mas = sweeet!!) and it is now my primary DVD / gaming platform!!! I must add, I havent even seen what pic looks like thru HDMI cables, still running off RGB cables and it still looks awesome!! Excellent quality at a great price!! Love the set!!!

(Posted on 1/8/12)

I have had the E320YP for five weeks. Impressive vivid colors, very good contrast, wide variation in controls for customizing color and sound. Unfortunately, the speakers are mediorce at best; even the excellent equalizer controls (which only work with the SRS surround sound "off") do not significantly improve the hollow and "tinny" sound. Perhaps the speaker technology has not caought up to the thin LED HDTV? I subsequently purchase a Vizio soundbar with subwoofer - great!

(Posted on 12/27/11)

The picture quality far surpasses anything I saw in this size and price range. The features: 2 HDMI slot, VGA capable, USB slot and RCA inputs all make this a very versatile monitor/TV. With a little experimentation I was able to connect my laptop and watch streaming video. It took a little tinkering with my laptops video settings to get the images to appear on both the laptop and the Vizio but the time spent was worth it. The sound leaves a lot to be desired but I intend to buy a mini stereo and/or a 5.1 surround sound system which should take care of the problem. I would denfinitely recommend this product to anyone, friend, family or foe.


(Posted on 11/27/11)

The picture is awesome, the sound needs some working on.shouldn't have to buy a sound bar to enhance the sound. Vizio need to tweak the speakers on there tv. Over I love the tv!

(Posted on 11/17/11)

this tv is the thinest one i have ever had and the sharpest picture the sound not so good but if you adjust it its ok

(Posted on 11/15/11)

I couldn't beat the price of this TV, and I love that it's an LED. Once you take a little time to adjust the settings the sound isn't bad and the picture is is great. Despite the reviews, the sound is only slightly flat to me compared to other TVs in my house, but it's not terrible. I really can't find a negative with this TV. The only funny thing to me is the powerbirck cause with a few of the thing I have plugged in, so I have multiple "bricks" sitting around my stand.

(Posted on 11/6/11)

i got this tv on sale at wal mart to play xbox 360 on and i was a little worried about the 9ms responce time but it is fantastic i was going to get a 26 inch westinghouse off of walmart.com for two hundred but i was in walmart today and they had this model sitting on the rack open box item style and i ask the lady and she says it was a display model that they took down it was just missing the stand and plug and remote so i look it up online and bam im amazed by the reviews so i buy it for 235 dollars and then as im walking out of the electronics dept she stops me and says hold on a minute let me look in the back for the stand and she comes back out with not only the stand but the remote as well as the plug so i got this working display model tv with just a few lite scratches on the back for 235 dollars and i cant say any more about how much i love the picture vizio i will buy again from you guys keep up the good work thank you

(Posted on 7/5/11)

This TV so far is fabulous !!!! It was easy to set up, with the exception of figuring out where to plug in the power cord on the TV. It's in the little sunk in place just above the neck. I thought that little place was where you put you hand/ fingers to pick it up..hahaha !! The "plug in" is on the left side of that . You almost have to look into the sunk in spot and to the left to see it. I would've NEVER found it, even after reading the instructions. I called Tech assistance and the guy told me where the plug in was. He was very nice and helpful AND he spoke English, I could understand him !!! He walked me through programing it up and all is well at my little house. It does need some sound adjusting. I'll tinker with that when I get home today. I really like this TV and the tech support as well. I will most likely get one for the living room. My parents have two if these and that's what sold me on VIZIO. There's is so neat.

(Posted on 6/15/11)

I recently went into the "new" WalMart by my house - they had sent out locally $5.00 Gift Cards and my 10 old television had just broken down.

I was initially going to "look" at models and features and get some experience under my belt. Upon looking at the wall of TV's . . . I noticed the Vizio models and pricing; there were two models priced EXACTLY the same, same model numbers on the tag, basically the same features except for the contrast ratio. After telling the sales person which model and price - I was shortly told that the one I chosen was the LED model instead of the LCD model described. We pull the tags and it clearly stated the LED was the same price as the LCD model . . . . WalMart sold it to me for same price since I clearly was in the right. WalMart was not happy since they just (the evening before) repriced and merchandised the wall of TV's. Anyway - GREAT BUY on my part . . . the TV works great - the sound could be better since my analogs have a much deeper and richer sound without putting into service a home theater.

A GREAT BUY, it PAYS to LOOK, READ and compare your pricing.

(Posted on 5/29/11)

I use the VGA cable as well. It works great but acts like an extended monitor and WON'T play the sound through the TV speakers. What i do is put my Audio cable into my Headphone jack in my Computer and it works great!

(Posted on 5/23/11)

I was a little concerned about buying this product after reading all the negative reviews on the internet. The guy at the store was even trying to talk me out of purchasing this TV due to poor sound quality. I wasnt really worried about that due to the fact that I have a wonderful sounding surround setup. I went ahead and bought this TV anyway. Everyone was right on the the sound quality of the TV. It isnt that great, but the feature and the BEAUTIFUL picture makes up for that. I am very pleased with this product!

(Posted on 4/29/11)

Hello there,

I just bought this exact new 32 in vizio tv with vga port.
I connected my laptop to my tv via vga cable and use fn and f5 on my laptop to switch to TV mode.
I also had input source set to RGB from my TV so I am good to go in terms of getting my laptop to project display on my TV.
Well, here is where I am stuck. I have no sound although I have sound coming out from my laptop speakers but I want to hear that sound from my TV speakers.
So , I went out and bought an Y cable adapter that plugs into my laptop headphone jack to my TV ( RED and WHITE ends connect to the TV L and R options.)
I dont know if I need to do something else in sound icon from TV menu but sound still not working for me so far from TV.
What am I missing guys ? Please advise.

Overall , I am very pleased about this TV, just gotta figure out some more stuff about it.
Thanks.

(Posted on 4/7/11)

The picture quality is much better than similar brands, and after I connected the HDMI cable, it was plain old "terrific"!! However the sound isn't very good. I'll have to invest in a speaker system or a sound bar. I will definitely get another Vizio TV!

(Posted on 4/6/11)

I bought this TV as a replacement for an old analog TV in an RV. I haven't installed it yet, but it is not going to work using 12 VDC as the power supply output is 19 VDC, not 12 VDC as another reviewer reported. I was hoping that it would do that, but it's not a big deal as I have an inverter that supplied 120VAC for the old TV and the power consumption is much less than the old smaller size TV. The picture is very good, but the sound has no bass with the built in speakers. I like the picture best in the vivid mode. The menu has many adjustments for picture, audio, and other things, including factory default for resetting everything back to where it was when shipped.

(Posted on 3/18/11)

I bought two of these for our beach house, and the quality can't be beat. They are super thin and light, and mounted perfectly on the wall with an articulating mount. I saw a lot of people complaining about the sound, and I really don't see a problem. When you first turn it on, the default sound is in flat mode, which sounds like a tin can. All you have to do is change the default sound mode to anything else but flat. You even have an equalizer to make some fine tuning adjustment. It really isn't that bad at all, so I was pleasantly surprised. No, it doesn't sound like a stereo system, but no TV sounds like that without hooking up a bunch of stuff. Out of the box though, it's decent sound. I paid $329 for this TV at Dell, and couldn't be more pleased with the picture and sound.

(Posted on 3/12/11)

I had some difficulty deciding whether or not I was going to buy This T.V. or the Vizio 32" non LED Back lit. When I got to my local walmart the only T.V. they had was this one so the decision was pretty easy. With all that said I would have to say that this is the best investment I have ever made. I bought a PS3 with it as well and this T.V. remote can control the PS3. Very cool feature. The T.V. gives off no heat what so ever. It was very easy to mount the T.V. and set it up. The colors are great and the sound from T.V. speakers is okay once you mess with all the picture and sound settings.

Overall I love this T.V. Go buy it!!!!!


(Posted on 3/9/11)

just picked up led lcd 720 over all awesome picture i can see what people are saying about sound quality not that "rich" not much bass to it, plugged my xbox 360 to it... beautiful! led adds so much more light even when sun gleaming in my room i can see my tv!

(Posted on 3/2/11)

good looking super thin led tv great picture.......sound ehhhh not so good;(

(Posted on 3/1/11)

Love it. Easy to install and set up. I liked the function of HDtv that is included in the set up. In the past I had to manually set up each of the HD channels my cable provider provided. I did not have to do that with this one. Had it set up and running in about ten minutes. Sound could be better but since this is in the main bedroom it is good overall. I am very pleased with each Vizio purchase and now in the process of becoming a 100% Vizio customer. Also bought the extended warranty and loved the amount of coverage for the money.

(Posted on 2/26/11)

Love the TV itself but the sound quality out of the speakers isn't that great. I fixed that issue with a 1000 watt surround system from Sony. The bedroom now rocks!

(Posted on 2/21/11)

excellent, fast install, no problems whatsoever. i would buy another and probably will later on. thanks vizio

(Posted on 2/19/11)

The TV is nice looking, thin, light, has a good picture and good sound. The remote looks weird but that's not important. Note: If you are mounting this TV you have to take the neck off. Don't follow the instructions that come with the TV. Do this: Unscrew the two visible screws. Then, if you look closely there is a cover over the neck. Firmly push that off from bottom to top. This will reveal two more screws. Undo those then slide the neck out.

(Posted on 2/2/11)

This tv is well worth the money its has a picture that is far beyond what my 26 inch vizio had and i have no problem with the sound . Over all it is a great TV.

(Posted on 1/30/11)

This tv is well worth the money its has a picture that is far beyond what my 26 inch vizio had and i have no problem with the sound . Over all it is a great TV.

(Posted on 1/30/11)

Very nice TV. Great picture quality from standard cable input unlike most TV's. Great HD picture quality! Sound quality is perfectly fine for a TV, recommend turning off the TruSurround feature for best audio quality.

(Posted on 1/22/11)

This has been thus far a good purchase. Very good picture quality, and this was numero uno in selecting a new tv. However, two dislikes: we do not like the lighted VIZIO located in the front/bottom of the set; and viewing the slide show of photographs by inserting the card into the USB port allows very few options. Cannot control the speed of the slide show (only fast and slow, however the fast is NOT very fast). Would have preferred to be able to set the speed by number of seconds AND/OR advance the slides quickly, manually.

(Posted on 1/12/11)

I purchased the VSB200 Sound Bar, since the tv really has a poor quality sound.
The sound bar is fantastic! I went to your products site and found the demonstration of the sound bar...and it lives up to the demonstration.

We hooked it up with the RCA cables that came with it but could not get any sound. We called telephone support and was informed the RCA cables will not work with this model E320VP.
So if you do purchase the Sound Bar, also buy the optical cable. S/PDIF

We now have a Great picture AND Great sound.

(Posted on 1/12/11)

I want to place the tv, on a wall mount, so i need to take off the neck base because doesnt look good with it.
after unscrewing the neck, its still not possible to take off the base neck, because is too tight to take off.

any advise?? thanks.



(Posted on 12/25/10)

This TV has a FANTASTIC pic.... I paid $330 at BJs. The sound isn't great however it is ok for my 13x15 bedroom. If this is for a larger room you will want to invest in surround sound. I've only had it a week so cannot comment on long term use....but after a week I like it very much and feel it was an excellent value for an HD TV.

(Posted on 12/12/10)

I was looking at the sony kdl32ex400, i went to Walmart and looked at this. This tv has a better picture than the sony but has two less hdmi ports on it. But since it is led it uses alot less power than my old samsung 30" tube tv. This is the best tv for the price

(Posted on 12/10/10)

Wow, LED LCD provides a fantastic picture. This set replaced a 26" Vizio that I thought had a great picture. The LED picture is much better and brighter. One thing that is not readily apparent is the power supply.

Most TV have a transformer on the inside that converts 115v or 220v to 12v, this TV uses an external 12v converter and 12 v plugs into the back. This might make it easier to install in an RV or other camping/water option.

Sound is a bit of a problem. It is good to superior to most other televisions, but it is NOT real surround and does not have a sub woofer, so... Also sound is not a rich as I expected from my other Vizio TVs.

Overall this TV is well worth the price I paid and Amazon had the best price of any place I checked. I usually spend an inordinate time pricing things prior to purchase and Amazon was well below everyone this time.

Set up: Opened the box, laud TV on bed, took down old TV, swapped out the mount, and had the new set operating within 20 min. Setup was also easy and fast. Weight does not seem that big a deal at first, but this set's weight is slightly LESS than the 26" we replaced. Another plus for mobile mounting.

We use this TV as out second in the bedroom. I am so impressed that I may replace the main TV before too much longer with the big brother of this set.

(Posted on 12/9/10)

When I first connected my Vizio to my cable box I was disappointed with the picture because it didn't look the same as it did in WalMart. I read the manual and decided to get an HDMI cable. When I hooked it up it made all the difference in the world. Don't connect your TV using the the DTV/TV cable from the cable box. When you get your TV get the HDMI cable as well. You'll be glad you did.

(Posted on 12/7/10)

The picture is sweet, no complaints what so ever. I love this TV and I don't know why people are complaining about the sound. If you are using it for your living room where everyone is watching it then yes you might have something to complain about. But for a bedroom it's the best choice, sounds good once you mess with the settings. Visual quality is %100 satisfactory, awesome picture. I give it an A+ get it and enjoy it, it's worth every penny.

(Posted on 11/30/10)

Great picture quality, awesome deal for the price. Set-up is very simple, nothing complicated about it at all. Audio quality is marginal, but for the selling price it is acceptable. I will most like connect it to surround sound to create a better audio quality. Overall, very pleased due to price, picture clarity and ease of set-up. Good buy.

(Posted on 11/29/10)

Just bought this TV last night and set it up upon arriving home. Obviously, have not used it for any length of time, but the PICTURE IS GREAT and the SETUP WAS SO SO EASY! Very pleased with the purchase.



(Posted on 11/21/10)

Bought this unit a couple weeks ago to replace an old 19" conventional set. This was the right size for the replacement and we are very pleased with the initial cost, installation ease, and the performance to date. Colors are clear, Black is black and white is white. We use this in our bedroom and the sound is adequate for this setting. i might want to add a sound system if I were using it in a larger room.

(Posted on 11/17/10)

I recently purchased this Vizio LED TV from my local Wal-mart. Normally as a tech savvy person I would recommend people be careful purchasing a TV at there local Wal-mart but I have to say it's a great tv. I picked it up for around $468 after taxes and it hooked right up. I use it as an Extended desktop for my laptop, my Xbox 360 and my Upstairs cable connection. With plenty of Color options and lighting options such as an Adaptive Luma, DCR/OPC backlight control and an Ambient Light Sensor with multiple settings creatings a backlight that doesn't bleed and brightness levels that are always perfect. I would recommend this tv to anyone. Thanks for the great product vizio :)

(Posted on 11/16/10)

Liked the tv!

(Posted on 11/6/10)