26" Class Edge Lit Razor LED™ LCD HDTV

(26.01" Diag.)

MODEL NUMBER: E260VA

Model Features:
Ultra-thin profile
Edge Lit Razor LED™ backlighting
SRS TruVolume™ & SRS TruSurround HD™
Exceeds Energy Star™ 4.1 guidelines
Two HDMI ports
JPEG photo viewer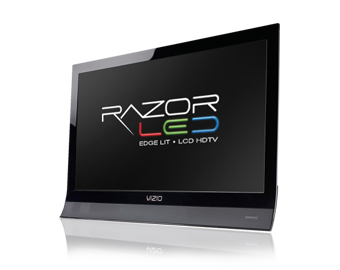 Product Overview
Headline: Slim. Stunning. HDTV.
As beautiful as it is thin, the 26" Class (26.01" Diag.) Edge Lit Razor LED™ LCD HDTV proves impressive HDTV doesn't have to carry a premium price tag. Razor LED™ backlighting gives it brilliant color and contrast, while ambient light sensing technology delivers optimal viewing in any light. It automatically adjusts backlight levels based on its surroundings, so your picture is always balanced and never washed out or too bright.
Headline: Superior Surround Sound
This HDTV also delivers advanced audio thanks to SRS TruVolume™ that limits volume inconsistencies between programming and SRS TruSurroundHD™ that turns your room into a personal theater. It delivers an immersive surround sound experience marked by clearer dialogue, and more precise bass and high frequency signals. Add a VIZIO Soundbar for more intense audio.
Headline: 2 HDMI® Ports
Two HDMI® ports accommodate your home theater setup and Blu-ray® Player to deliver a more cinematic experience.
Headline: Exceeds ENERGY STAR® 4.1 Guidelines
Conserve energy and the environment. This eco-friendly HDTV's remarkably low energy consumption exceeds ENERGY STAR® 4.1 Guidelines so your energy bill and the planet can both be better off.
Razor LED™



Razor LED - VIZIO is the first to bring LED technology to smaller size LCD HDTVs! This Mercury Free, Energy Efficient, Razor Thin HDTV achieves a 20,000:1 Dynamic Contrast Ratio giving you deeper blacks and brighter whites - 400 nits brightness.
Ambient Lighting



Energy efficient sensors auto-adjust brightness for the perfect picture regardless of room conditions.
Digital Photo Viewing



Enjoy a slideshow of your family and friends (via USB Drive)***
ECO HD™



ECO HD™ exceeds new Energy Star® 4.1 Guidelines by 25%**, saving you money on your utility bills while limiting the impact on our planet.
Razor Thin Styling



A 0.86" thin profile* that is simply amazing!
Dynamic Contrast Ratio



20,000:1 Dynamic Contrast Ratio delivers deeper blacks and brighter whites through contrast and dimensions.
SRS TruSurround HD™



Delivers immersive virtual high definition surround sound. Learn More
*Maximum depth 2.37"
**When TV is on
***USB Flash Drive not included
Tech Specs
Specifications
Class:
26"
Viewable:
26.01"
Backlight Type:
Edge Lit LED
Resolution:
720p
Colors:
16.7 million
Dynamic Contrast Ratio:
20,000:1
Refresh Rate:
60Hz
Response Time:
400 nits
Viewable Angle (horizontal/vertical):
178 degrees
Audio
SRS TruSurround HD™:
Yes
SRS TruVolume™:
Yes
Channels/Speaker Output:
2 x 5W
Connections - Inputs (REAR)
HDMI with HDCP:
2
Component:
1
Composite:
1
VGA:
1
S-Video:
RF Connector for Internal Tuner:
1
Ethernet:
NA
Connections - Inputs (SIDE)
HDMI with HDCP:
Composite:
1
USB 2.0:
1 - JPEG only
Connections - Outputs
Optical Digital Out (SPDIF):
1
Analog Audio Out:
0
Headphones:
1
Multimedia Support
Music (MP3):
No
Photo (JPEG):
Yes
Video (MPEG):
No
DLNA:
No
Additional Features
Smart Dimming:
No
Smooth Motion:
No
Picture-in-Picture (PIP):
No
HDMI CEC:
No
HDMI ARC:
No
Ambient Light Sensor:
Yes
Bluetooth:
No
Wireless (WiFi):
No
Wireless HD (1.0):
No
Theater 3D:
No
Full HD 3D:
No
Mercury Free:
Yes
Remote Control:
VR10
Power Consumption:
34W
Stand-by Power:
<1W
Weight
Gross:
19.4lbs
Net With Stand:
13.1lbs
Without Stand:
11.8lbs
Dimensions
With Stand:
25.4"W x 17.0"H x 5.9"D
Without Stand:
25.4"W x 17.0"H x 2.3"D
Packaging Dimensions:
29.5"W x 20.1"H x 6.3"D
| | |
| --- | --- |
| Certifications | UL, c-UL, FCC Class B, Canada (BETS-7), HDMI 1.3a, VIZIO PQ, VIZIO AQ |
| | |
| --- | --- |
| Compliances | Energy Star 4.1 EIA/CEA-766-A, ATSC Spec A/65 |
Wall Mount Specifications
Hole Pattern:
100(V)mm X 100(H)mm
Screw Size:
M4
Screw Length:
0.7mm
Screw Pitch:
10mm
| | |
| --- | --- |
| VIZIO Warranty | One Year Parts & Labor; Free Lifetime Technical Support |
VIZIO, Inc. has made every effort to ensure the accuracy of the information provided herein. All product specifications, functionality, features, configurations, performance, design and other product information described herein are subject to change without notice. VIZIO, Inc. disclaims liability for typographical, technical, or descriptive errors
Customer Reviews
I bought this TV sometime around late March / early April of 2012. So, I've had it for nearly a year now. It sees use for both my PS3 and as a monitor for my PC. The picture has always been great, and gets good sound quality. If you're out looking for a new TV, then I would suggest giving this one a look.

(Posted on 1/30/13)

This is just what I was looking for to replace the old 20" tube TV in my bedroom. It's a good looking TV, takes up alot less space and works great. The initial set-up was a snap, the picture is bright, clear and sharp and the sound is just fine from the front facing speakers - no complaints of tinniness from me. I especially like the 2 HDMI connections, I hooked-up my HD satellite box to one and my DVD player to the other to give me great viewing pleasure in whatever I choose to watch. If you're looking for a great TV for a smaller room I don't think you will do any better than this 26" from Vizio.

(Posted on 9/20/11)

I PURCHASED THIS 26 INCH LED/LCD FOR MY WIFE. IT HAD THE FRONT SPEAKERS WHICH WAS A MUST FOR HER (HATES BOTTOM SPEAKERS ) AND AUDIO QUALITY WAS UNSURPASSED. PLUG AND PLAY USP PORT FOR HER TO LOOK AT HER JPEG PHOTO'S WITH HER FRIENDS AND EASE OF OPERATION WAS PERFECT. I AM A DESIGN ENGINEER AND I WILL TELL YOU THAT THIS SET SURPASSES MY SONY AND SANYO FOR QUALITY IN WORKMANSHIP, MATERIALS, DESIGN, PORTS AND EASE OF SETUP. IT IS UNDERPRICED FOR THE QUALITY BUT I WILL NOT COMPLAIN IN THIS TIME OF WORLD HARDSHIPS. VIZIO MAKES IT POSSIBLE FOR THE AVERAGE PERSON TO OWN A FINE TV THAT WILL LAST AND GINE SUPURB SERVICE. THANK YOU VIZIO FOR ALL YOU HAVE DONE FOR THE TELEVISION MARKET. KEEP UP THE EXCELLENT WORK AND CONSIDER PUTTING THE SPEAKERS BACK INTO THE FRONT FOR QUALITY AUDIO. SINCERELY
ALBERT B
SOLAR DESIGN ENGINEER

(Posted on 8/25/11)

This tv is amazing!It was a early christmas gift from my paretns due to those black friday sells at wal-mart, i took it out the box and set it right up in my room in less then 5 minutes. i use it as a monitor and when i play xbox its pretty good picture, however i plug the HDMI in and i cant keep my eyes off the screen! Love this t.v i know its going to college with me this year.

(Posted on 7/28/11)

I got this for my bedroom, great picture and sound, use as monitor for my laptop, streaming netflix, works great. Only thing with the LED LCD need to use extra care moving had one screen ruined just moving from house to house. Other than that been very pleased. Will give this one to my daughter and get the one with internet apps next for me,

(Posted on 7/8/11)

I bought this model for a bedroom which would not accomodate a larger screen.
Set up was quite fast and simple. Some people have criticized the sound but the quality and volume seem fine to me. Picture quality depends on the source. Using an HDMI input with a DVD player gives an excellent picture. I like the idea of having two HDMI inputs. (A competitor provides only one.) There are many possible settings for picture and sound but the factory settings seem fine. The remote is very versatile and easy to use. The instruction books (fast set-up and regular) are clear and easy to follow.
All in all this is a fine model if you need a 26" TV.

(Posted on 7/5/11)

Have 2 disagree with the person that said not 2 use it as a monitor. That is the reason I bought it and it's perfect!! Couldn't b more pleased! It works great with my Toshiba Laptop. Bought this around the 2010 holidays at BJ's Wholesale for $279. Got it in the white. Vizio should consider making, or at least offering as an option, all their TV's in white! It blends in so much better with any decor than the standard black. Black is so ordinary anymore. It's like having Granite Counter tops and tile floors!! BORING!!! I don't think there is another manufacturer that produces white TV's. Everyone that sees it always asks,"where did you get a white TV?" You might want to consider other colors also, or maybe offer snap on and off faces like they do for cell phones. It's just a thought Vizio. I think your products are great! My main TV is a 47" LCD Vizio, also purchased around the same time. Thank You.

(Posted on 6/16/11)

Impulse buy about 3 weeks ago at Wal-Mart. We've recently remodeled and in doing so our old TV's didn't fit in the spaces provided. We have a Standard Def DirectTV signal going into it, and I must say I am pretty pleased. It isn't the greatest signal, but that's OK and not the TV's fault. It is in the guest room, but also makes for a great way to solve the problem when my wife and I want to watch different things. Sound is pretty good, which is the main things that ruled out another Vizio model that I had looked at earlier. Anyway, for the price at Wally World I can honestly say it blows away anything remotely in its price range.

(Posted on 6/11/11)

I have had this tv for bout 3 months and I am very pleased with it. The picture is great and especially for the price. The size is perfect for me because I like falling asleep to TV and it is not too overwhelming, also the timer works great and if i decide to stay up later i can just turn it off or it will give me a one-minute warning. The audio is nothing special but I am a lot more pleased with the audio then other people seem to be with other vizio TVs. The one situation I would not recommend this TV for is a computer monitor. I have a laptop and do not require an additional display but when I do seldom hook it up to the tv via HDMI cable and with a 1080i resolution it just doesn't seem very smooth and the colors look to be a little off. Otherwise I also use this TV for my Xbox, Apple TV and cable box and it is phenomenal.

(Posted on 5/10/11)