Co-Star™ Stream Player
MODEL NUMBER: VAP430

Model Features:
Make any HDTV the Ultimate Smart TV**
Combines TV and streaming entertainment
Universal touchpad remote with keyboard
Google TV – TV, Web, Games, Apps
Web browser with Flash Player and HTML 5
Search across live TV, the web, and apps
Built-in Wifi for easy internet access
Supports Full HD 1080p and 3D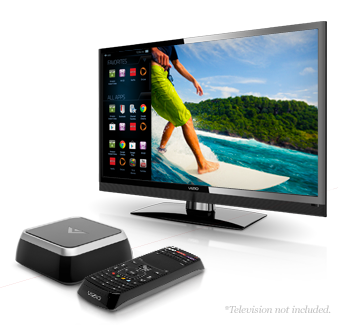 Product Overview
The VIZIO Co-Star™ Stream Player merges live TV and streaming entertainment into one experience, turning any HDTV into the ultimate smart TV**. Using the latest version of Google TV™, Co-Star decks out your existing HDTV with apps, full-screen Web browsing and the best in streaming entertainment. And with 1080p Full HD resolution, built-in Wi-Fi, and 3D-readiness, VIZIO Co-Star is the ultimate entertainment upgrade for any high-definition television.
Watch This
The VIZIO Co-Star gives you total control of your content. Check out the Co-Star commercial.
Instant
Smart TV
Grab your Co-Star™ and turn any HDTV into the ultimate smart TV**. Stream blockbuster movies and hit shows through Netflix® and Amazon Instant Video. Play the latest hit console video games through OnLive®, or crank out your favorite tunes from iHeartRadio and Pandora®. With its innovative universal touchpad remote with keyboard and access to thousands of apps through Google play, Co-Star™ is as smart as they come.
A Smarter

Way to Watch
Co-Star™ merges live TV and streaming entertainment into one experience. When connected to your cable or satellite box, you can search streaming movies, websites or your favorite shows on screen without interrupting what you're already watching.

Search or
Browse
Powerful Google TV™ Search goes a step above, using one simple interface to pull together results across live TV channels, the Web, apps, and content on your home network. You can even surf the Web on the big screen with the Google Chrome™ browser and Adobe® Flash ® Player.
Touch, Point, and Tap

with Ease
The Co-Star™ smart remote looks and feels just as outstanding as it functions, packing a touchpad and full keyboard for easy and intuitive navigation.


Game

On

OnLive is a revolutionary new concept in video games, instantly delivering the latest high-end games on demand directly to Co-Star™ through the internet with the simplicity of streaming video.
Easily Connect to

More Possibilities
Integrated USB connects to hard drives or other storage devices to access more of your favorite movies, music and pictures. It also lets you connect keyboards and other peripherals to make browsing and searching even easier.
Entertainment

Control
For times when the remote is not nearby, downloading the free Google TV™ remote control app gives you full control of your Co-Star from your Android or Apple smart phone or tablet.
Download Google TV Remote
from Google play store
---
* High-speed/Broadband Internet service and access equipment are required and not provided by VIZIO. Additional fees and/or subscriptions required for certain content and services. VIZIO Internet Apps (V.I.A.) and VIZIO Internet Apps Plus applications pictured, described on this page or its accompanying documentation may not be available or may provide different functionality, content or services at the time of purchase. Applications are subject to future updates and/or modifications without notice.
** Compatible with high definition televisions with HDMI connectivity.
*** One month subscription to the OnLive PlayPack Bundle ("PlayPack") available for discounted price of $2.00 when you sign up for a new OnLive account through your VIZIO Co-Star™ and subscribe to PlayPack by 11:59 PM PST on December 31, 2012. Offer only applicable to first OnLive account created through your Co-Star. After the one month promotional period, your PlayPack subscription will automatically renew and your credit card on file will be charged $9.99 every month until you cancel. You may cancel at any time. To do so, go to www.onlive.com, sign in, click on "Account" and follow the cancellation instructions. Upon cancellation, your access to PlayPack ends immediately and no refund or credit shall be available for the remaining portion of the month. PlayPack is only available while connected to the OnLive Game Service in the United States. Games available in PlayPack are subject to change without notice. PlayPack subscription and offer are not transferable. Offer has no cash value. Offer subject to cancellation or change at any time. No retroactive discounts.
Orders placed on VIZIO.com will only ship to the United States, exclusive of P.O. Box or APO/FPO addresses or U.S. territories.
Tech Specs
Networking
WiFi:
Yes, 802.11n/g/b
Ethernet:
10/100Mbps
Bluetooth®:
Yes
Video
Resolution supported:
720p, 1080i, 1080p
3D support:
Yes
Video playback:
H.264, MP4, MKV
TV compatibility:
Any high-definition TV with HDMI port
Audio
Music playback:
MP3, AAC, WMA
Audio Features:
Up to 5.1 surround sound pass-through
Remote
Name:
Universal touchpad remote with keyboard
Universal:
Yes
Bluetooth:
Yes
Keyboard:
Yes
Touchpad:
Yes
Ports and Interfaces
HDMI In (connects to Cable/Satelite Box):
1
HDMI Out (connects to TV):
1
USB:
USB 2.0
Weights + Measurements
Product Dimensions (W x H x D):
4.2" x 1.6" x 4.2"
Weight:
0.66 lbs
In the Box
Co-Star™ Stream Player
Universal touchpad remote with keyboard
Power adapter
Quick Start Guide
VIZIO, Inc. has made every effort to ensure the accuracy of the information provided herein. All product specifications, functionality, features, configurations, performance, design and other product information described herein are subject to change without notice. VIZIO, Inc. disclaims liability for typographical, technical, or descriptive errors.
Customer Reviews
I have been looking for a means by which to cut the cord and the Co-star is it! It is inexpensive, easy to set up and offers you access to content beyond the restrictions of conventional service providers. Great product!

(Posted on 12/10/12)

I got this device as an android for my parents. After messing around with it a lot (before giving it to them) I came to the conclusion its a great, powerful device that does everything THEY would want it to it, but the skimmed version on Android that's on this device makes it hard to take full advantage of Android on their TV.

From a hardware stand point its' great.

For users with limited knowledge of Android, it's great.

For users who want more opinions out of this device, it's not that great. I'm hoping over time Vizio will reduce the fragmentation of the version of Android they have / push to this device. Sadly, I think in the future, I might be forced to root and re-rom it when a good kit comes out for it if Vizio doesn't give it good updates in the future.

(Posted on 11/28/12)

Title says it all - They really messed it up by not having any visual indication on the front of the unit.
With latest updates (after November 14th, 2012), I am beginning to like it a lot. This is the best Google TV experience you get and it is bound to get improvements. There is lot of activity in terms of Google TV development lately and by being one of the 2nd generation products co-star will continue to get updates for another year at least.

(Posted on 11/19/12)

I am an early adopter of most new technology and this means I've tried google tv in various forms. Before this, I was using a Logitech Revue, but this is head and shoulders above that product, which now seems clunky and unacceptable by comparison. Good points: great remote, smooth interface that lays over screen, works on the same input as my DVR (no need to switch between cable box, dvr, and co-star); remote controls everything (TV, cable box, co-star); remote has one button access to netflix and amazon video; Plex streams smoothly from my PC over my home network. And the kicker is the price: $99.

(Posted on 11/8/12)

Had my Co Star now for about 3 weeks. Love the Internet... the APPS are fantastic... I don't think that people understand that the apps are the same as the ones you download to your Android phone from Google Play. I would say that most of the apps appear to work but I have come across a few that don not because they were specifically made to be used on a phone.

There is nothing currently out there that comes close to the Co Star.


Things I would like to see added to the Co Star:

1. a redesign that incliudes some form of cooling fan... I would not reccomend leaving the co star on for LONG periods of time.

2. an actual keyboard for those that REALLY like to surf the net using the co star.

3. some form of lights on the box to let you know that the co star is on or off.

(Posted on 11/4/12)

This is very good product. Developers need to create more optimize apps for it. A+

(Posted on 9/24/12)

This was worth the purchase. I pretty much only use Netflix to watch movies and shows. I used the Wii before and it has poor quality video and audio. This has full HD capabilities which made a huge difference. For the price, this thing has all sorts great features you can use. It is a little sluggish to me and I wish you could stream on some of the news sites but im hoping later on that it will be enabled.

(Posted on 9/24/12)

Although the advertisments do not say it, Co-Star Integrates with U-Verse boxes. Netflix works smoothly. I can check email, weather, Google search, schedule, etc from my remote.

(Posted on 9/8/12)

Great product to wach Youtube, Hulu, surf internet with Google Chrome. I like it very much. Very nice small size , can place on top of the cable box or TV. The only thing I don't like is power LED indicator is located in Back of the unit.
There should be some kind of LED screen or indicator to see the mode between live TV and Vizio Co-Star? and if Power is On or Off?
Vizio brings out some very good products, why it missed in these area?
Hope Vizio should consider in design change.

(Posted on 9/7/12)

There are some internet issues with the Google Chrome Browser and Adobe Flash Player because some websites you will not be able view their streaming media content. I hope that vizio develops an update because I am an avid streaming media user. I love the PIP feature and overall I give the product 4.67 stars out of 5.

(Posted on 9/2/12)

Just got the co-star and have been testing it out. It looks good and operates pretty good too. I was kind of shocked that once I got the intial setup done and it needed to restart that it came back on and said the software needed to be updated already. Other than that it is a very good product.

(Posted on 8/24/12)

good

(Posted on 8/21/12)