Make any HDTV,
the
Ultimate Smart TV
VIZIO's line of Co-Star™ Stream Players seamlessly combines live TV and the best in streaming entertainment - bringing more hit shows, movies, music and more to your HDTV.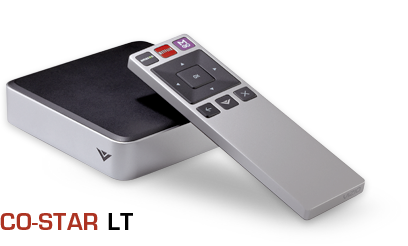 Co-Star LT is the easiest way to stream hit movies, TV shows and music to your existing HDTV.
Seamlessly merges live TV and streaming entertainment
Easily access streaming apps through an intuitive interface
Built-in Wi-Fi for easy, hassle-free internet access
Streamlined remote with instant access to popular apps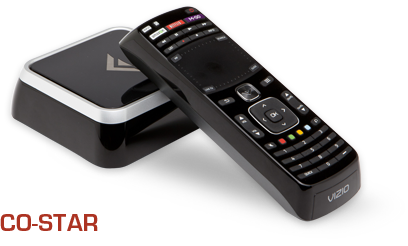 Co-Star with Google TV™decks out your HDTV with apps from Google Play, full-screen Web browsing, online gaming and streaming entertainment.
Seamlessly merges live TV and streaming entertainment
Search across live TV, streaming shows, apps and the web
Built-in Wi-Fi for easy, hassle-free internet access
Full web browser with HTML 5 support
Bluetooth universal touchpad remote with keyboard
More Apps
On Tap
With access to the most popular streaming apps, each Co-Star stream player delivers a wave of content that takes your entertainment experience to the next level. A simple interface that makes access to virtually unlimited entertainment easier than ever, and lets you watch, listen and play through your TV in a whole new way.
Hulu Plus available only on Co-Star LT
Pandora available only on Co-Star

Enjoy Up to $100 of Free Entertainment
When you sign up for third party promotional offer.*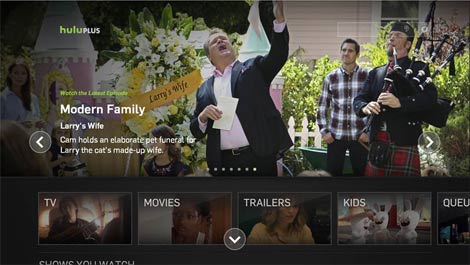 Hulu Plus
Get exclusive streaming access to current hit TV shows, classic series, and acclaimed movies anytime in HD. Available in the U.S. only.
Second Screen
Interactivity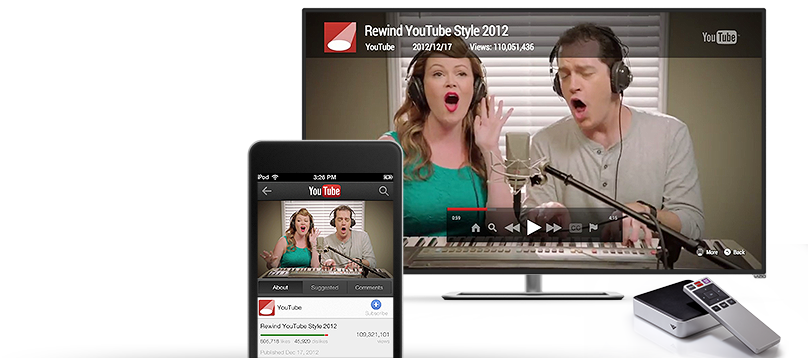 Seamless viewing across multiple screens.
This convenient and innovative technology enables you to control apps and seamlessly transfer content between your TV, mobile phone and tablet with the flick of a finger,
for a truly integrated multi-screen viewing experience.



Works on both iOS & Android
mobile devices and tablets.
Superior Technology

State-of-the-art technology takes top billing, packing the phenomenal power of a palm-sized box. Each Co-Star has built-in Wi-Fi, supports up to 1080p high definition video and supports 3D for pictures that leaps off the screen.
Set Up In A Snap
Setting up Co-Star is as simple as 1-2-3. Simply power on and connect your cable or satellite receiver to your TV through the HDMI ports. Then let Co-Star's on-screen set-up wizard guide you the rest of the way.
Co-Star LTCo-Star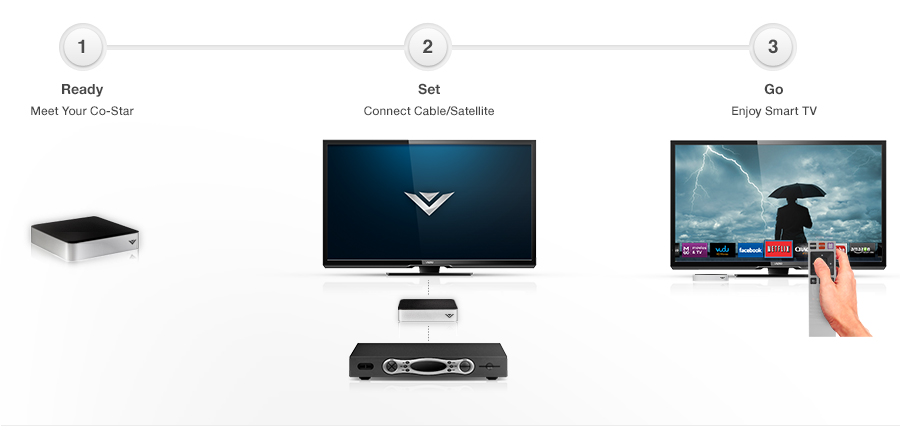 Compare Co-Star features
Co-Star LT
Co-Star
Model

ISV-B11

View Full Specs

VAP430 | ISG-B03

View Full Specs

Platform
Live TV
Integration
Remote
Web Browser

Google Chrome

Connectivity
Connectivity Port
(Rear)
VIZIO Acclaim. See what the critics are saying.
Google TV At Its Best

Co-Star "makes the most" of Google TV at "a price that gives you reason to care."

Unbeatable Value

Co-Star declared "the least-expensive piece of Google TV hardware yet."

Style With Savings

The "promising" Co-Star with a "snazzy" remote offers Google TV at "half the price."

A New Way To Game

Endgadget predicts Co-Star could "replace a game console" for broadband-enabled households.
*The content provided herein is intended for informational purposes only. VIZIO has no control over, and assumes no responsibility for the content, services, privacy policies or practices of any third-party service providers. VIZIO, Inc. disclaims liability for any actions taken as a result of using this web site or for errors or omissions in content. Promotional offers are available to new accounts only. Standard subscription charges apply after the free trial period expires. Additional terms, conditions and restrictions apply. For more information regarding a third-party service provider, its privacy policies and/or any additional terms and conditions that may apply, visit that third-party service provider website or contact the third party service provider directly. All information described herein is subject to change without notice.

*Compatible with high-definition televisions with HDMI connectivity.