AC POWER CORD
MODEL NUMBER: ACPOWERCORD

Model Features:
1.8M Universal AC UL Power Cord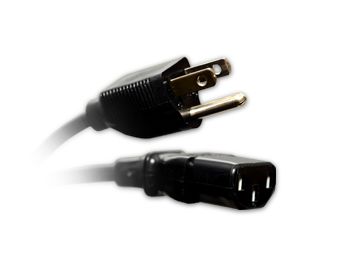 Product Overview
Replace your overused or misplaced AC power cords. This AC power cord is designed to work with most TVs, PCs, monitors, scanners, printers and other devices that use the IEC 3-pin shroud power connector.
This 1.8M Universal AC UL Power Cord is equipped with a three-pronged grounded plug, a plug with a third (grounding) pin. This plug will fit only into a grounded power outlet as a safety feature. If your outlet does not accommodate a three-wire plug, have an electrician install the correct outlet, or use an adapter to ground the appliance safely. Do not defeat the safety purpose of the grounded plug.
When connected to a power outlet, power is always in your HDTV. To totally disconnect the power, unplug the power cord.
Tech Specs