Electronic Cleaning Kit
MODEL NUMBER: VCP100

Model Features:

Perfect for TV Screens, Home Electronics and Stainless Steel Surfaces!
Anti-Bacterial Non-Toxic Cleaning Foam
Includes Microfiber Cloth!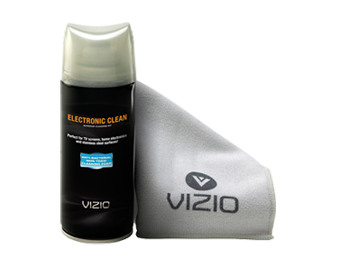 Product Overview
VIZIO's Electronic Clean is a superior cleaning kit perfect for TV screens, home electronics and stainless steel surfaces. The solution's anti-bacterial and anti-static ingredients are non-toxic and neutral PH, renewing finishes and repelling dust. The easy to use solution cleans in seconds, removing fingerprints and grease, hiding hairline scratches on CDs, DVDs and Video Game discs. Microfiber cloth included in kit.
*Due to the pressurized cleaning can, this product can only be shipped via ground; no overnight shipping available on the VCP100.
Tech Specs